Here's my write up on a 16 day trip that myself and 12 of my friends went on to Japan. First of all, you should know that I've been to Japan many times as my background is Scottish Japanese and I have an undying love to show Japan off in it's best light. Note that this is a Japan trip that ticks a lot of the tourist trail boxes as well as some hidden gems. I also used the Japan Travel Subreddit which was extremely helpful, so I've made this to try and give something back.
To keep things simple, I've split this blog into a few sections:
- Things I would've done differently
- Detailed breakdown of itinerary
So skip along to whatever part suits you the best, if you wish.
Before we get started, here are few things to note and take with you to Japan:
1.
For a country so clean and tidy, there aren't many bins so keep some room in your bag until you find one. They also love wrapping everything in an unnecessary amount of plastic;
2.
Convenience stores such as Lawson, FamilyMart and SevenEleven will become your crutch for the entire holiday. You could get breakfast, lunch and dinner there and that would probably trump any Japanese food you'd ever had previously, they will have your ATM, you can buy tickets… I could go on and on, but go and see for yourself and you'll wonder why your convenience stores simply aren't the same;
3.
'Sumimasen' is possibly going to be most useful word you'll use out in Japan. It means 'excuse me' or 'sorry' and in such a polite culture, you'll use it often.

Going on a trip to Japan with my friends had been a goal of mine for about 10 years and last year, with the help of a whatsapp group, we managed to finally make that a realisation. Naturally, being one of the only people who'd been before, I wanted to create a hypothetical itinerary with rough costs to encourage everyone on how feasible it all was. Below shows the final summary of the itinerary which, to be fair, only varied slightly from the original that was put forth 6 months prior.
Our group consisted of Irish, Northern Irish, Scottish, Japanese, English, Kiwi, Dutch… I think that's all, a good spread nonetheless. It was a mixture of single people and couples, a lot of people had never met before but had someone within the group to tie in as a link. What made this trip work so well was everyone's ability to meet and get to know new people. Additionally, people occasionally split off into groups when we couldn't decide what to do collectively.
We chose to go from the 14th until the 29th of May 2016 which worked out for several reasons:
- the weather ranged from 25°C to 30°C (or 77℉ to 86℉);
- the sumo wrestling was taking place in Tokyo;
- it was less busy as Golden Week had finished before we arrived;
- flights and hotels were cheaper as it was after the Cherry Blossom season.
Here's a table that shows a summary of what we did for each day. For a more detailed diary of the trip, see below. I've seen other itineraries that are great but tend to just cram too much in there. I mean I'm all for getting the most out of a trip, but sometimes we just enjoyed taking our time and soaking up the atmosphere. Or we were horrendously hungover and couldn't deal with life.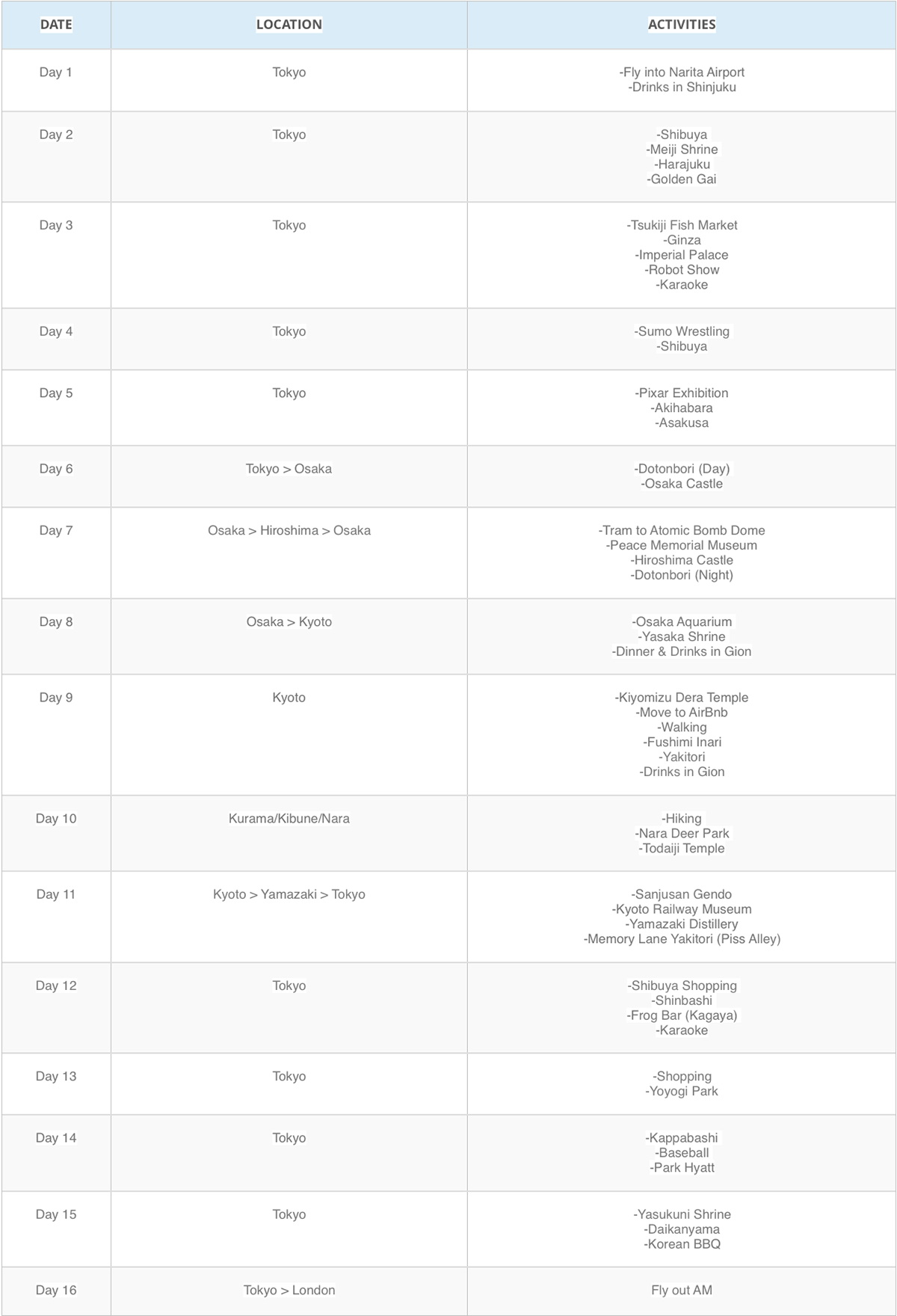 Naturally, everyone's budget is going to vary. Everyone has different tastes and priorities. Our groups tastes varied but also had a lot of similarities: We didn't hold back on the price of food, we wanted to splash out on as many experiences as possible, and we drank… a lot! There were also shopping days where people put their money towards anime, stationery, electronics, clothing etc etc. I could talk about clothing, camera and a ton of other shopping places in Tokyo for hours. Here's my Google Map Guide to Tokyo …it's entirely customised for me and may need a bit of updating, but have a look if you're interested. Anyway, I digress, here's a table of the approximate pricing of our trip.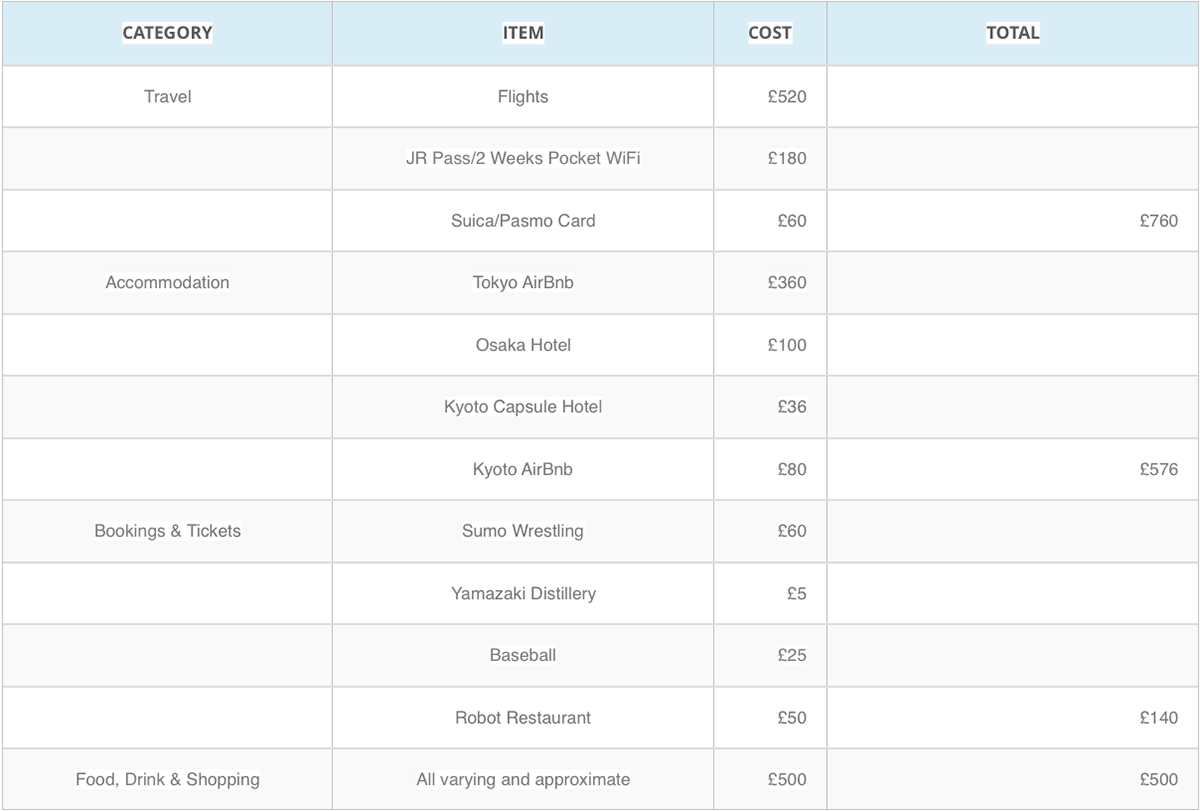 Please note that I'm writing this as a UK tourist, but most of this stuff applies all the same around the world.
As stated above, I can't stress to you how much a WhatsApp group helped us get everything booked and agreed on efficiently. It's something we all relied on whilst we were out there as most of us were scattered in our own Airbnbs and hotels. If you're going to go, I highly recommend using a whatsapp group or whatever platform suits your group the most.
The majority of us were coming from various spots of the UK, so people travelled in small groups to all arrive roughly around the same time into Tokyo. We booked our flights about 6 months in advance which helped a lot with the pricing and saving up for spending money while we were out there.
One huge factor that disappointed a lot of us was that the Ghibli Museum was undergoing refurbishment. I'd been before, several times, but it was heartbreaking to learn that my friends couldn't go. This brings me onto an important point: As a general rule of thumb, tickets for many events in Japan have to be bought a month in advance from the date you intend to go. Keep your eyes open for release dates… It wasn't until shortly before booking Ghibli tickets that I spotted the planned closure.
Below lists a few of the tickets, passes, hotels and AirBnbs we bought or reserved in advance before coming to Japan.
I believe you have to buy your pass in advance and outside of Japan as it only applies to foreigners with tourist visas. We used this website because they also provided us with a 'Pocket WiFi', allowing us to use 4G while we were out there. You can find links to this site here & here. Get the 'Pocket WiFi' if you want access to maps, messaging, internet etc. You'll save a ton of cash and keep things organised. The JR Rail Pass is an absolute blessing, the prices fluctuate according to exchange rates, but even so, they work out much cheaper than buying them as a regular customer. With your rail pass, you can effectively hop on/hop off a lot of the bullet trains that take you up and down the country. The only services you can't use are the Nozomi and Mizuho trains, but honestly this is hardly a restriction. HyperDia is a handy website to help plan your trip. You can activate your pass at Narita Airport, or whatever airport you're flying into, but because this didn't suit our itinerary we waited a few days and activated ours in Shinjuku Station. Only problem we had by doing this was that we had to pay for our express train to Tokyo and back separately. If your itinerary works out that you want to start using the bullet trains and JR lines straight away, then I would recommend activating it at the airport.
This is the answer to your New York MetroCard or your London Oyster card. They are extremely useful, quick and timesaving, definitely use this rather than buying tickets. The Suica and Pasmo cards are extremely similar, but I'd probably recommend the Suica as it seems to have a slightly broader use than the Pasmo. You can get it before you head out but it's very simple to pick up at any of the ticket machines at most train stations. Warning, it does eat a lot of your money as it doesn't cap like the London Oyster does.
These happen throughout the country on several occasions over the year: January, May and September in Tokyo, March in Osaka, July in Nagoya and November in Fukuoka. Here's the official site where you can find dates and tickets > Oosumo! Please note that you can only buy a maximum of 12 tickets at a time and make sure you're quick on buying them (it's like you're buying tickets to Glastonbury, or Wimbledon… or Coachella). Also, I booked all of our tickets in the Arena A area at the Front of house. This means you're on seats up on the balcony but you have a great view, front on, whilst soaking up the atmosphere. I've been before where I've been down in the boxes on the floor which was incredible, don't get me wrong, but keep in mind that you'll be sitting on the floor for hours, which some people don't like. I think the seats above gives you a much better perspective and they're slightly cheaper. Last but not least, even though the venue is open from 8am until approximately 6pm, I recommend going from 1-2pm onwards as that's when the more higher ranking wrestlers start to appear.
Now, even though this wasn't on our trip this time round, I'm pretty sure this is must for a lot of visitors. Here's the link. Read all the information carefully on the site, it's very helpful. My advice is to book an earlier slot so it isn't quite as busy and take full advantage of the gift shop as some of the things sold their are completely exclusive to that store. For any Ghibli or animation fans, you won't be disappointed, I hear there are some great new additions as well since the renovations took place.
Here's a link to the website.  Don't go for the food option, Tokyo has so much more to offer, brace yourself and god help you.
Only a handful of us went to this but it was everything you want from baseball plus more – the Japanese crowd were incredible.  Even if you aren't a baseball fan it is great fun and if you're used to American baseball, it's well worth it for a new experience. Here's the link.
Now, I can't really help you here as I was staying at my parent's apartment in Ichigaya. But we all came to an agreement that we would all stay in AirBnbs or hotels around Shinjuku. To be fair, the train system is so good that it's pretty easy to get around.  Others in the group stayed in different AirBnbs and all had great experiences of small but clean and practical apartments.
This place was nothing fancy, but it was somewhere where we could all stay at once for a reasonable price. It also had a bar and a teppanyaki restaurant out front, so when we were super tired but didn't want to venture out too far, this place sufficed. Here it is.
We figured that it'd be worth staying a capsule hotel for at least one night, just to see what it was like.  We stayed at the Nine Hours Hotel which was in a great spot and had a very minimal and quirky feel to it.  As expected, it's not for light sleepers but it was a lot less claustrophobic than we expected.
Here's where some of us stayed. It was a beautifully modernised version of a traditional Japanese house. Reminded me a lot of my grandmother's house. I have to say, the kitchen was pretty minimal and the area was fairly uneventful, but easily accessible to the train station and a lot of the popular areas in Kyoto. I think the price and the house itself made up for any negative points.
Things I would've done differently
Now, on one hand, we did so much in such a short amount of time and felt that it was a great holiday. On the other hand, there are few extra bits that I wished we'd either planned for or saved up to do.
Staying at a Ryokan / Onsen while we were in Japan was originally in our plan, in fact, one of the couples did stay at one in Hakone and it looked incredible! However, a lot of us felt that it was just a bit out of our budget and it seemed like something that you should go all out with in order to get the best experience. I'll definitely be booking myself and my girlfriend into one the next time we go!
Kyoto planning, some of the things we did Kyoto ended up being a bit back and forth, so some time was wasted doing a bit of necessary traveling. I think people, including myself, under estimate how much there really is to see in Kyoto and how far apart they can all be. Spending another day or two in Kyoto is recommended from my point of view… and planning more time at the Kyoto Railway Museum (but maybe that's just me).
If we were there for longer, I would've added plenty more places to the list, but I think all in all, we ticked more or less every box we wanted to.
We arrived into Tokyo Narita Airport at 08:30 with a full Saturday ahead of us. After getting through customs and collecting our bags, we headed to the desk to collect our Pocket WiFi then bought our return tickets for the Narita Express. Technically the JR Rail Pass includes the Narita Express but because we only had 7 days to use it once activating, we wanted to wait until we headed to Osaka.
The train took about 1 hour 30 minutes from Narita into Shinjuku Station. From here, we hopped into our taxi to take us to the apartment while other people in the group did the same to their respective places.
With jet lag kicking in, we stocked up at the supermarket nearby and got our things together before heading back into Shinjuku for drinks and meeting everyone else in the group. We went to an odd rooftop terrace that served all sorts of pan asian food and cheap booze.
Day2 – Shibuya / Meiji Shrine / Harajuku / Golden Gai
We started our Sunday by heading into Shibuya, I always figure that Shibuya is a great place to see early on when you visit Tokyo, gives you a good first impression. After wandering through the streets and alleys, we headed on towards The Meiji Shrine via Yoyogi park (which by chance had a Thai festival happening which was a welcoming surprise!). The Meiji Shrine is a very pleasant walk through the heavily wooded paths that take you onto the shrine and surrounding temples. Definitely take your time going through here.  You will often see weddings taking place in the Shrine, it's interesting to see the tradition and formalities, plus they can be quite grand.



After this, we headed into Harajuku which is on the other side of the train tracks from the Meiji Shrine. We had a short wander around here but didn't go into too many shops or winding alleyways at this point, instead we found ourselves separated, either in the Owl Cafe or the Snake Cafe. With hindsight, I wish I hadn't gone as I don't think the owls were in an environment suited to them… an experience nonetheless.
After a fair amount of wandering around the area, we headed back to the apartment before heading out for dinner. We went to Himonoya in Shinjuku for dinner, a great place for grilled fish, big tables and an all round big menu! Highly recommended!
Some of us then headed into Golden Gai, a cluster of narrow streets and alleyways with tiny bars squeezed into every space possible.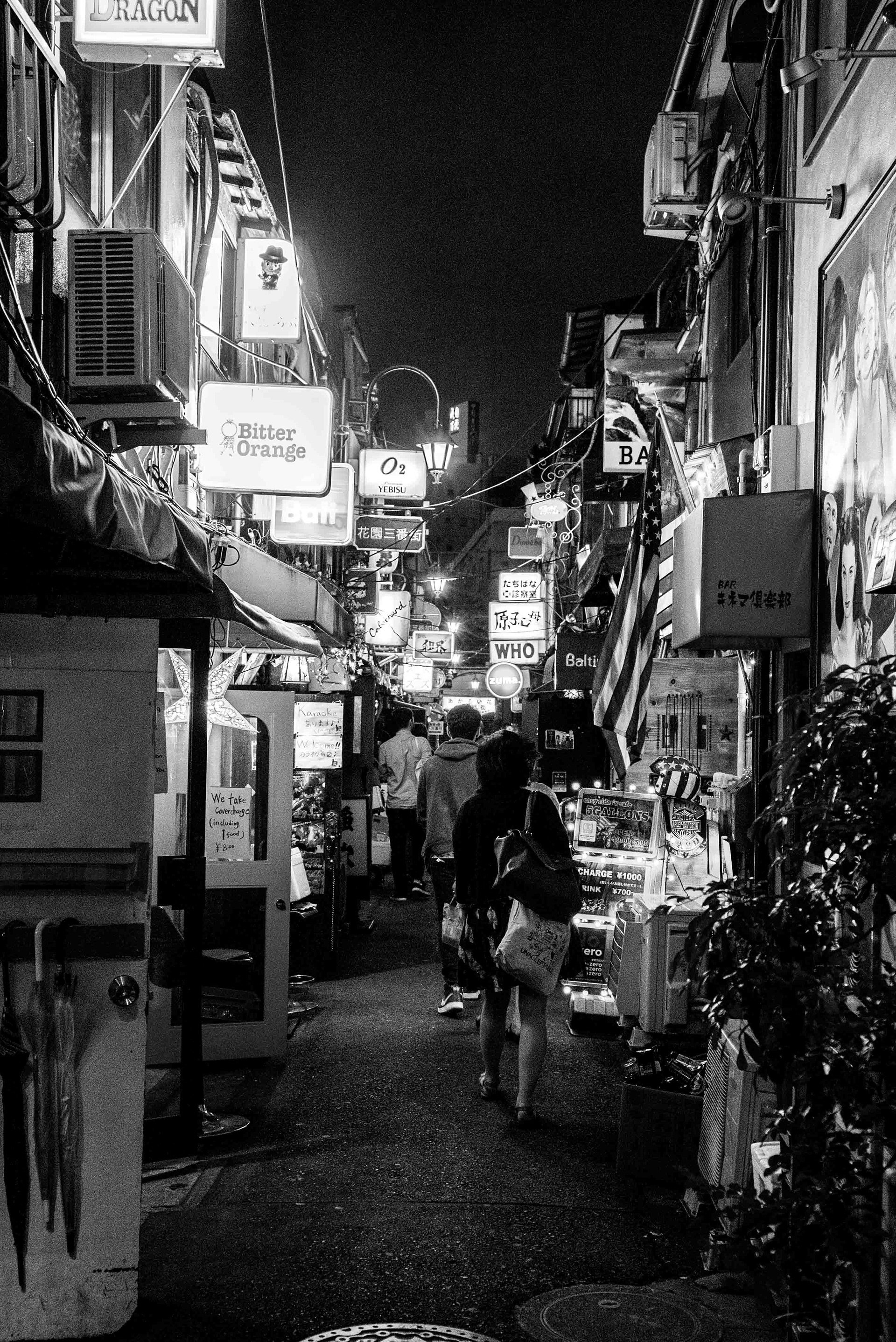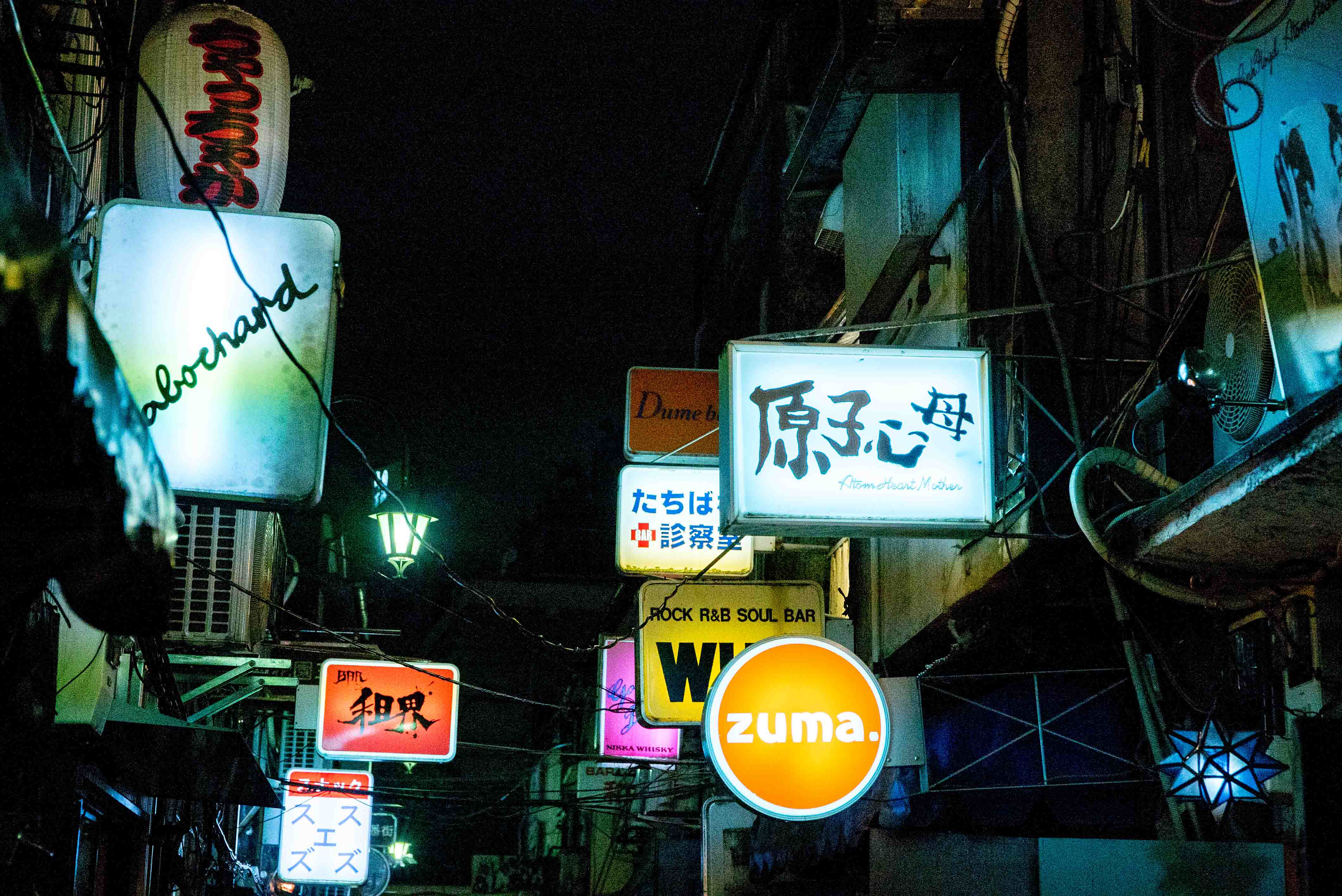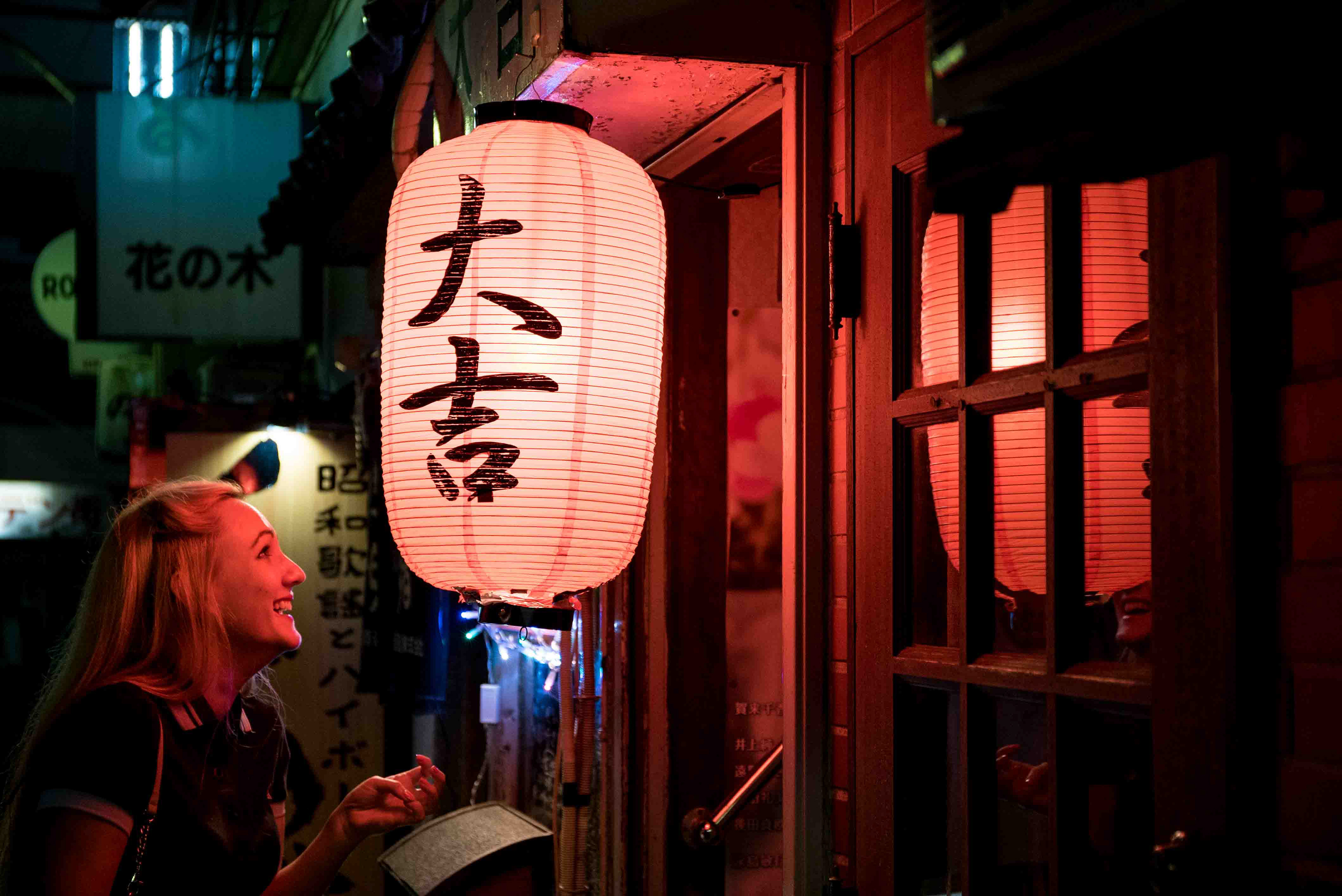 Day3 – Tsukiji Fish Market / Imperial Palace / Robot Restaurant / Karaoke
We started Monday off with Tsukiji Market, the world's biggest fish and seafood market. Going super early is the only way to go about this as that's when the market is at it's liveliest. Take a walk through the outer market and inner market and definitely try some of the fresh fish in one of the many sit ins around the market.  A few of the group had an amazing dish of 8 pieces of tuna nigiri, two from each grade of tunafish to show the differing taste and texture created by the fat content.  It makes you realise the stuff you get outside Japan is the worst cut!
From there we went to Ginza which, in short, is the equivalent to New York's Fifth Avenue. Here you'll find all your Louis Vuitton / Apple / flagships stores.
The Imperial Palace is a mere 10 minute walk from the Ginza strip. It's beautiful and has such a vast amount of open space for somewhere as condensed and cramped as Tokyo. If I remember correctly, it's a perfect 5K all around the palace so if you're staying close, it's a great place to go for a run while you're there.
After a recharge and some dinner we reconvened and went to the Robot Show… which is a strange one.  I can't say this was something I was that into as it seemed designed 100% for tourists, but everyone else was super keen, and you know what? I booked the tickets and it lived up to all my expectations: touristy; tacky; ridiculous; hilarious… so it was worth it, in the end.  A weird but fun few hours.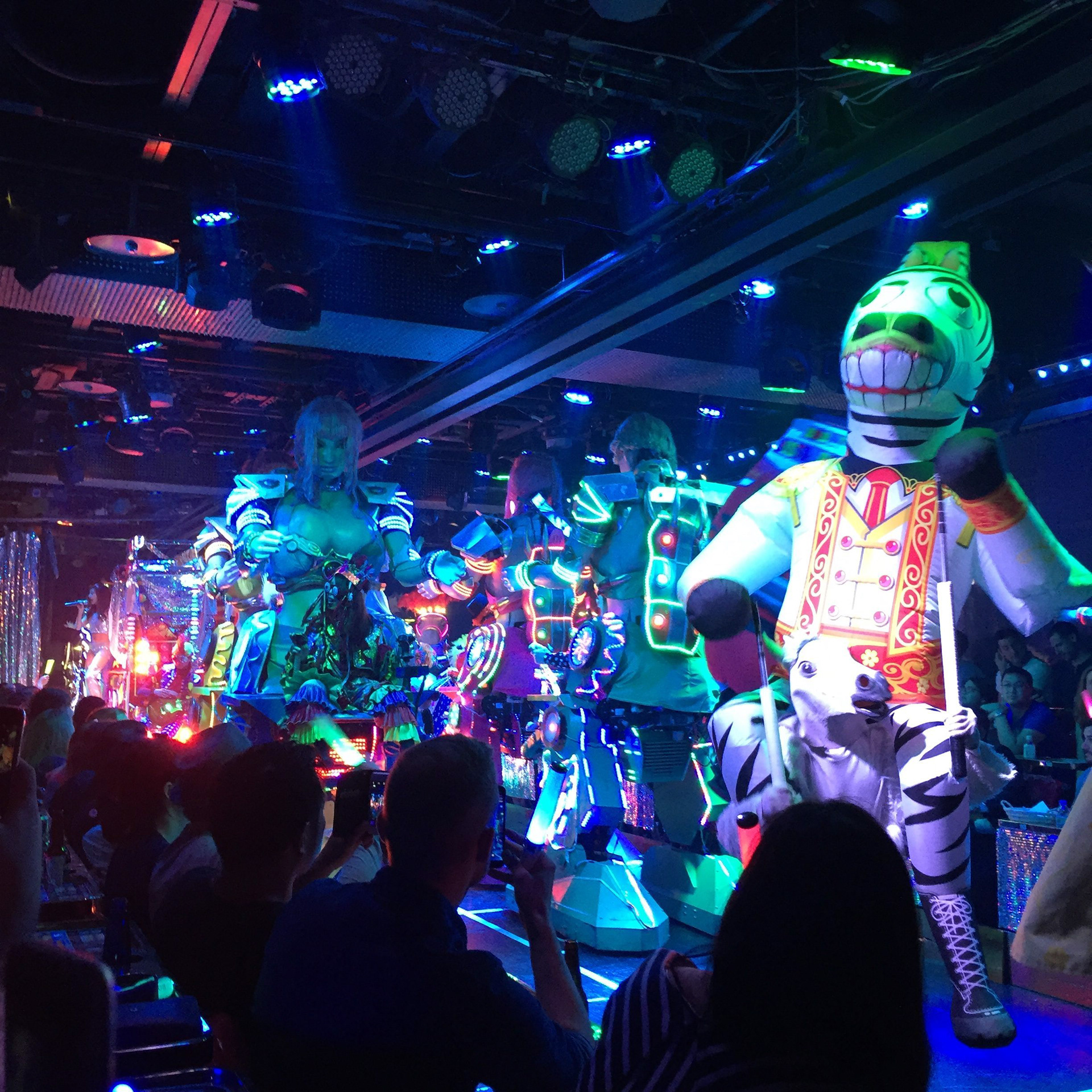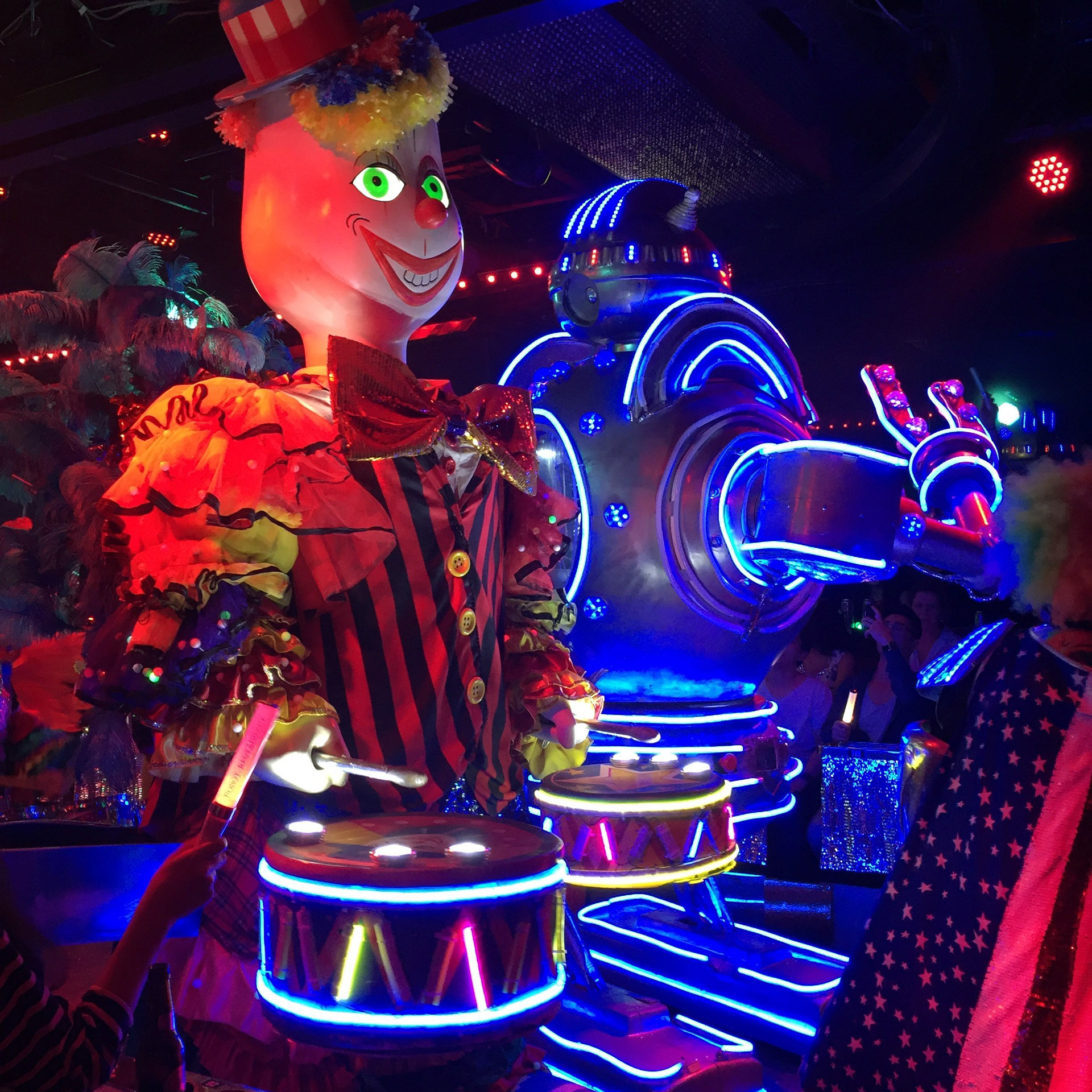 After the robot show and a minor earthquake, we spent the rest of the night at a karaoke place overlooking the streets of Shinjuku. We got ourselves into our private karaoke booth and paid something like ¥3500 each, which at the time was about £25. This gets you the room for the whole night (until 05:30) and unlimited alcohol which we 100% took full advantage of.  If you're looking to go to karaoke, ask to see the songs list at the reception so you can check there's plenty in your language and don't be afraid to haggle, if you have a Japanese speaker with you, you'll probably get a better deal.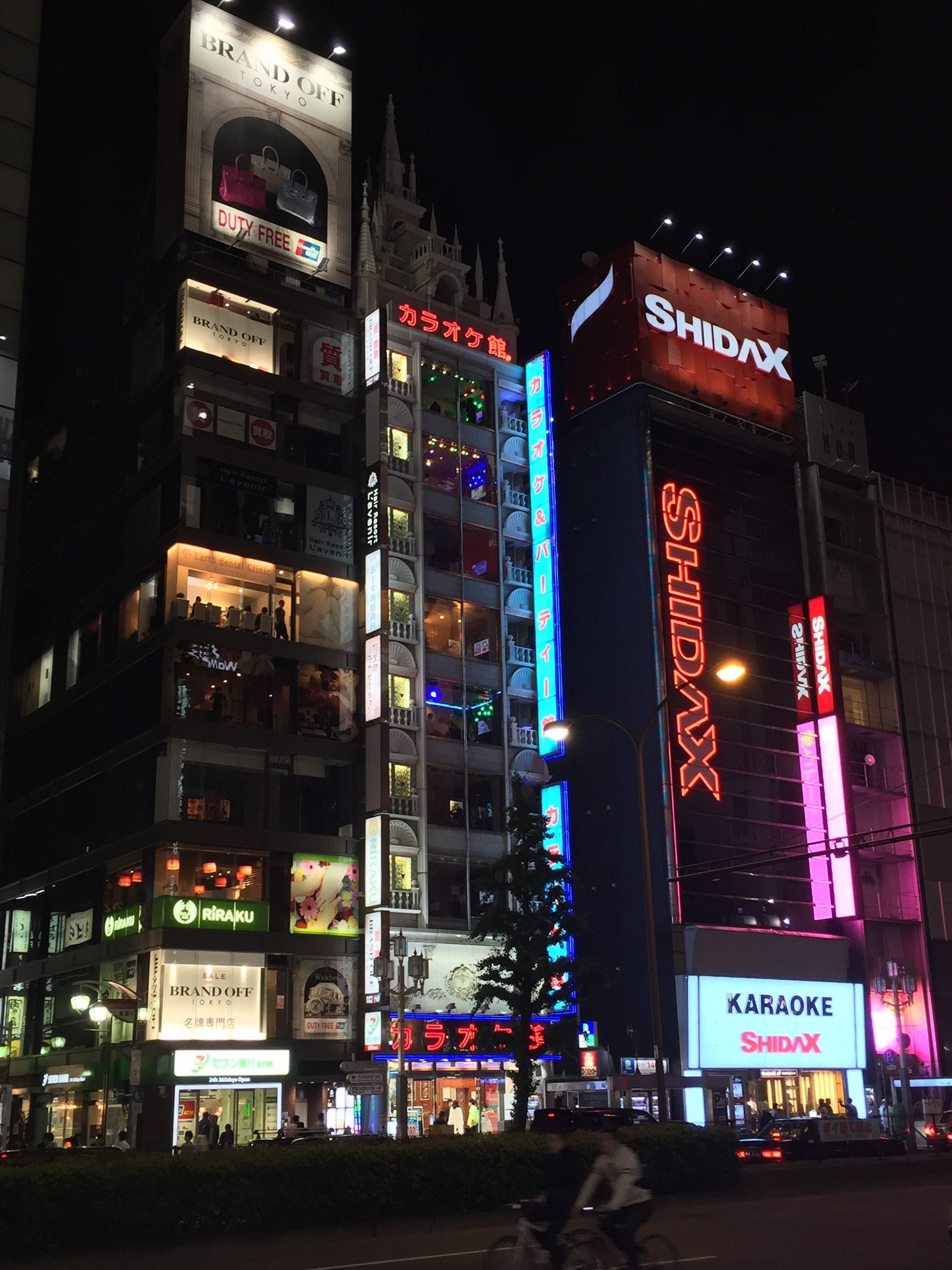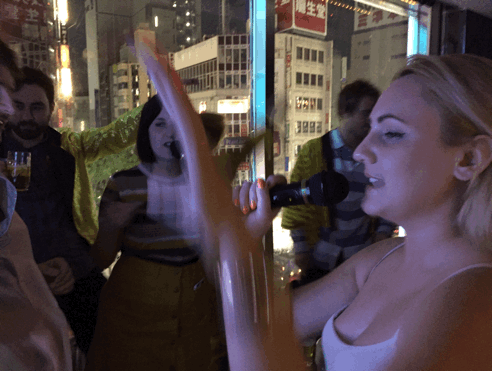 Since we hadn't gotten to bed until 06:00, getting up was tough, especially considering we were all still struggling with jet lag. Luckily, it's not necessary to show up to the Sumo until about 13:00 as that's when the most impressive wrestlers start to show.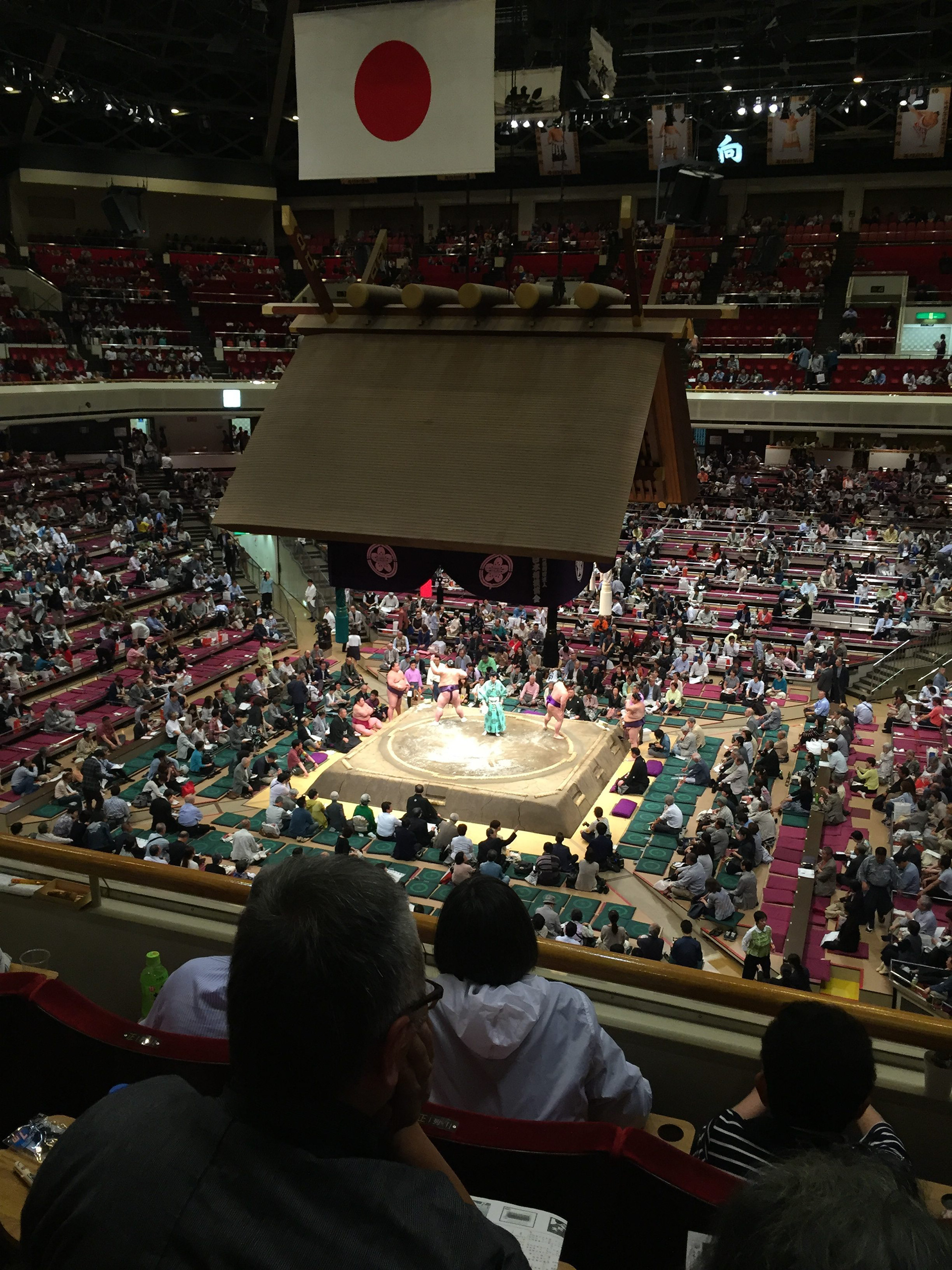 The Sumo is not a frequent tournament in Japan so if you want to go, you sort of have to base your trip around when these take place. But I have to say, it was definitely one of the highlights for all of us as you can't see a spectacle like this anywhere else in the world! The energy in the room was incredible and it remains a Japanese tradition that hasn't changed much for centuries.  It's worth reading up a bit beforehand about what goes on in the ring during a tournament as some of the rituals and activity around the matches can be as exciting as the sport itself.
Because we were all so hungover, we all had a pretty quiet night after this and either went for dinner, back to our apartments or a quiet wander around Shibuya.
Day5 – Pixar / Akihabara / Asakusa
As previously stated, the Ghibli Museum was closed when we visited, however there was a great Pixar exhibition in Tokyo while we were there. This was in fact an exhibition I'd been waiting for the opportunity to go see for a long time so we were lucky to go.
Afterwards, we visited Akihabura for some lunch and arcades! I suppose it's tradition to include some sort of video gaming whilst visiting Japan. We went to Club Sega which had floor upon floor of arcades including an incredible game in which you play drums against each other.  Just watching some of the well-practiced locals play was almost as fun as playing.
To round off the day, we went to Asakusa, a few stops north of Akihabura. This is where the famous Sensō-ji is. There's a long stretch of market stalls here where you can find great gifts, ranging from tatty to charming.


Day6 – Shinkansen to Osaka / Dotonburi / Osaka Castle
We caught an early Shinkansen from Tokyo Station to Shin Ōsaka, arriving before lunch.  This is the best thing about the bullet trains, you waste very little time travelling because they're so fast. Even so, they're a pleasure to ride.
A little trick: 
If there are more than 2 or 3 of you, look out for a small pedal on the underside of the seat. If you press it with your foot, the whole unit will spin around allowing you to face another row of seats.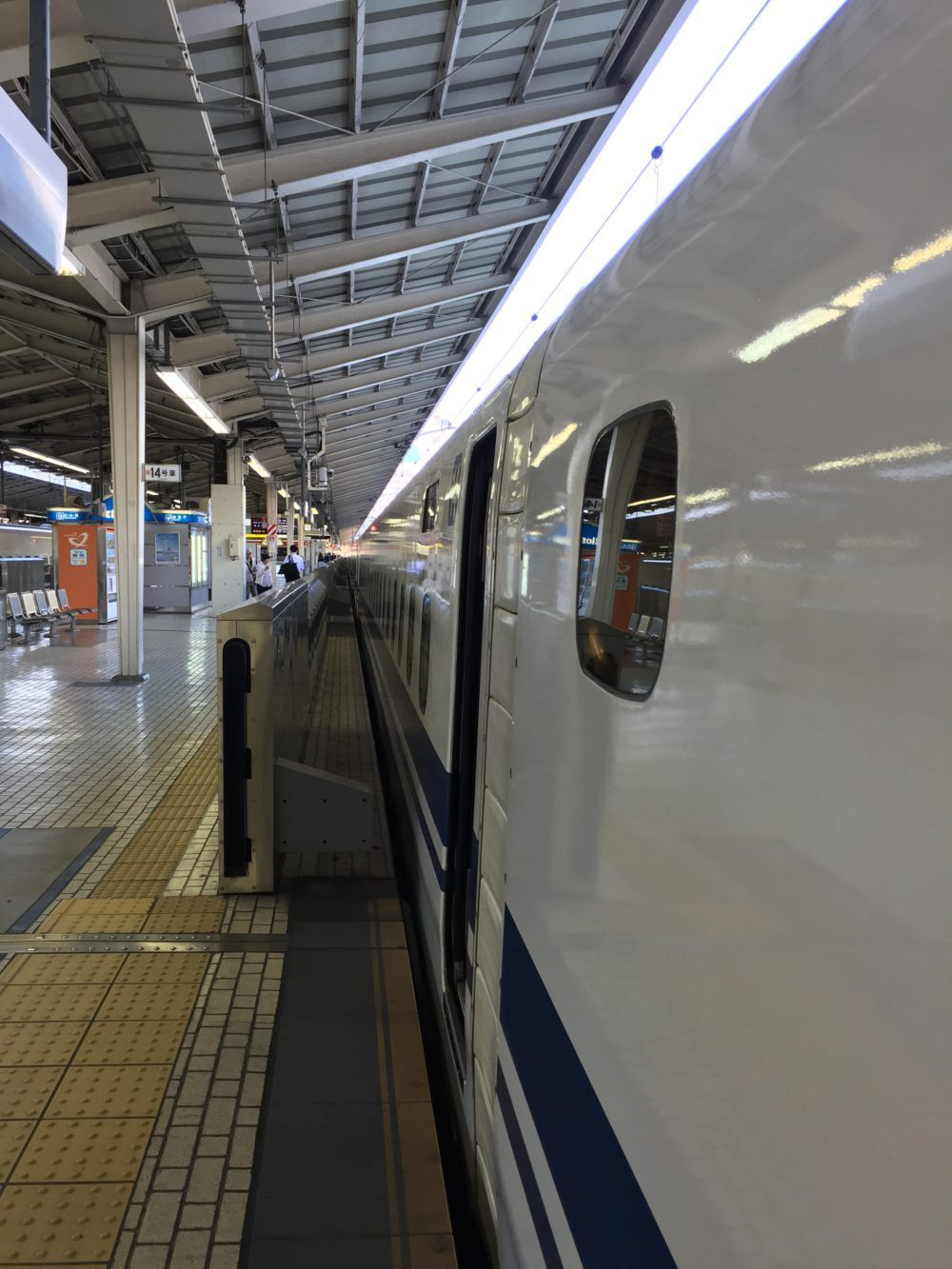 We dropped our things at the hotel and walked to Dotonburi for some street food.  If you only have one chance to go here, best go in the evening to get a better atmosphere and see the neon lights.  Most of the shops have impressive fronts and if you walk up and down you can get little bits and pieces at different places as they usually have a service window, in a group this means you get to try everything.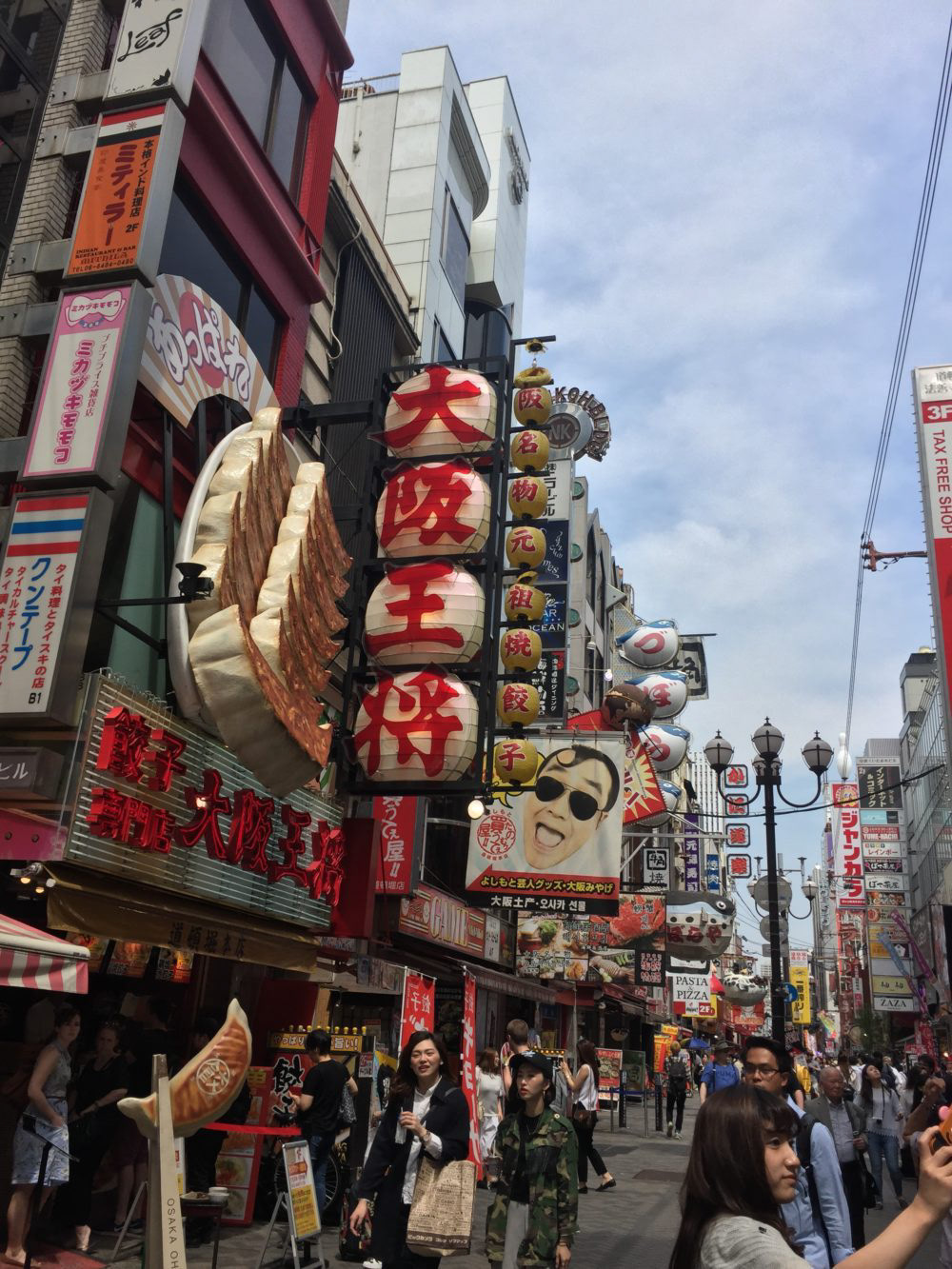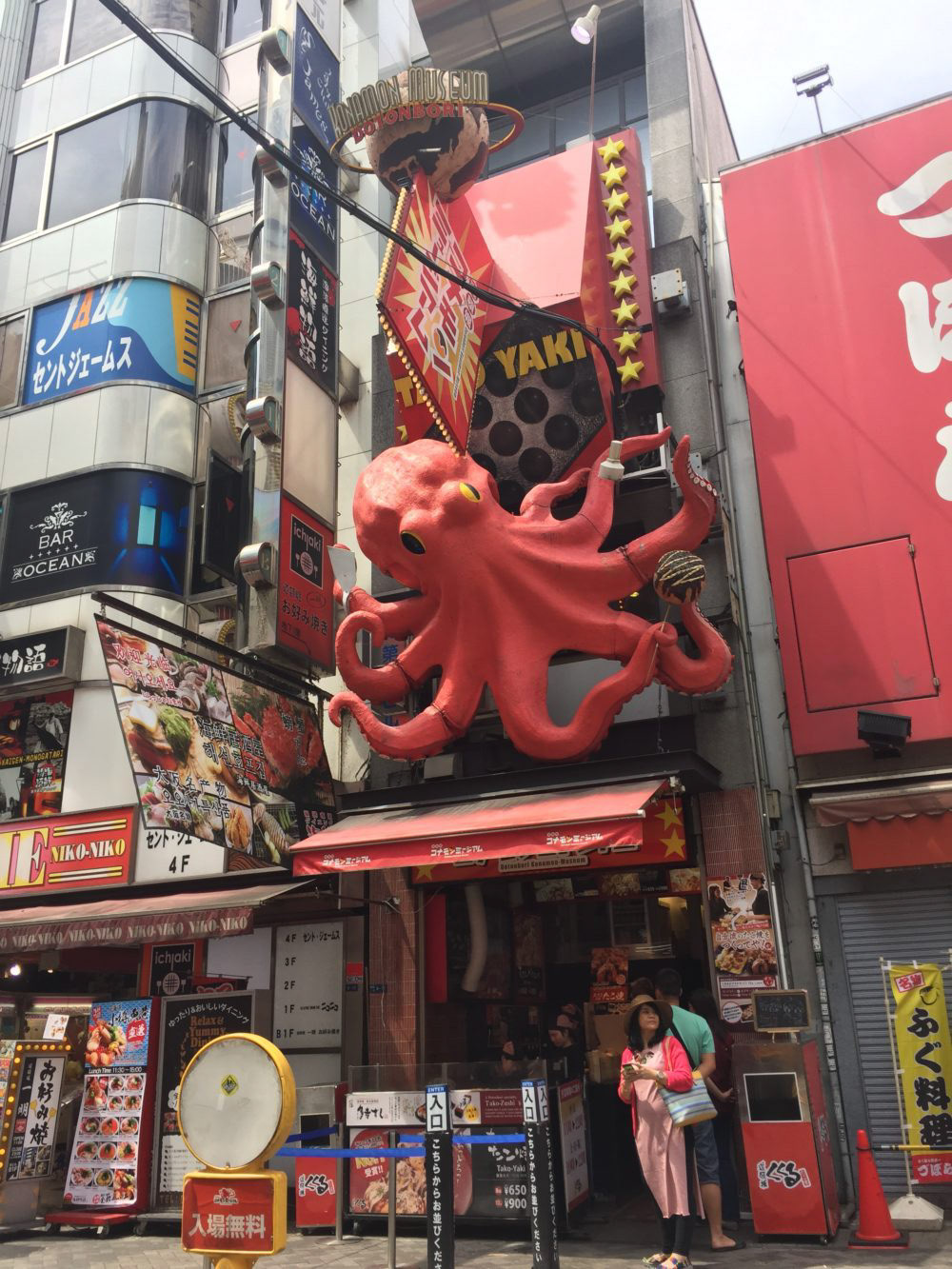 We also took a stroll to Osaka Castle, watched the sunset and went to a restaurant by the hotel for some teppanyaki.
Day7 – Shinkansen to Hiroshima / Peace Memorial / Atomic Bomb Museum / Hiroshima Castle / Dotonburi
We hopped on an early Shinkansen, this time to Hiroshima, for the day.  We wanted to see the Dome Sight and Atomic Bomb Museum; anyone who has the chance to go to Hiroshima should do this, even though it's not exactly uplifting, I believe that it's important for people to see.  We all agreed that we were glad to have gone and that it was a valuable part of the trip.



We returned to Osaka and to Dotonburi for an evening of eating and drinking by the river… don't hold back.


Day8 – Osaka Aquarium / Shinkansen to Kyoto / Yasaka Shrine / Dinner in Gion / Capsule Hotel
We started the day with a wee visit to the Osaka Aquarium. Originally we'd intended to go to the Universal Studios nearby, but time was precious and there are other Universal Studios to go to (Although, I have heard it's great, if that's your kind of thing).
The Aquarium was brilliant. You take an alarmingly long escalator to the top of the building and then slowly wind your way down through the aquarium until you reach the ground floor taking in the different marine life at different levels of each tank.
We went quite early so there were hardly any other people. So quiet that I got to sit and rest against the glass of an enclosure and nodded off from the shear tranquility of feeling immersed under water by beautiful sea creatures… By the time we left the aquarium it was very busy and really hot outside so we'd timed it well.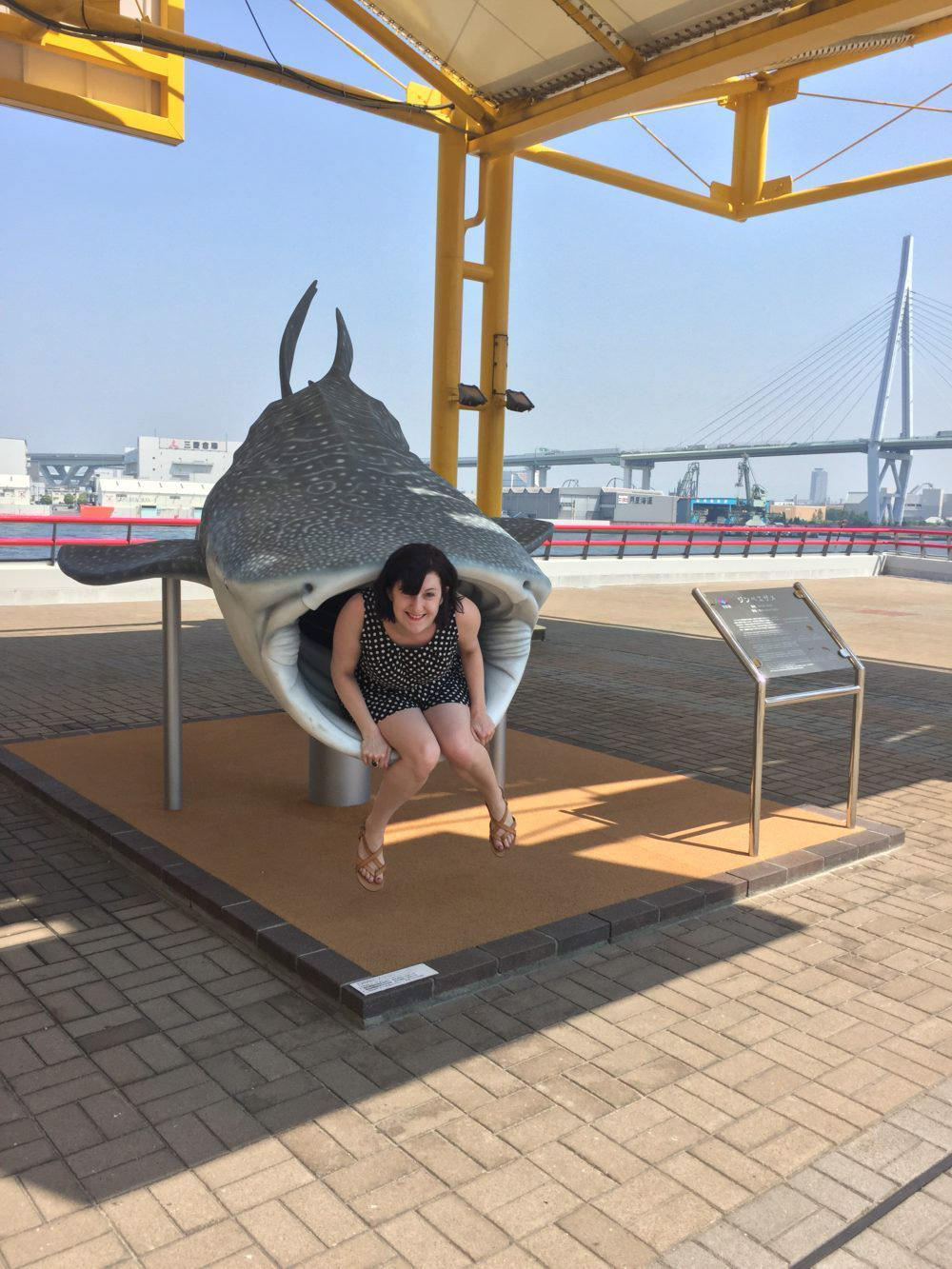 Afterwards, we collected our bags and headed for Osaka Station to board a short 20 minute Shinkansen to Kyoto.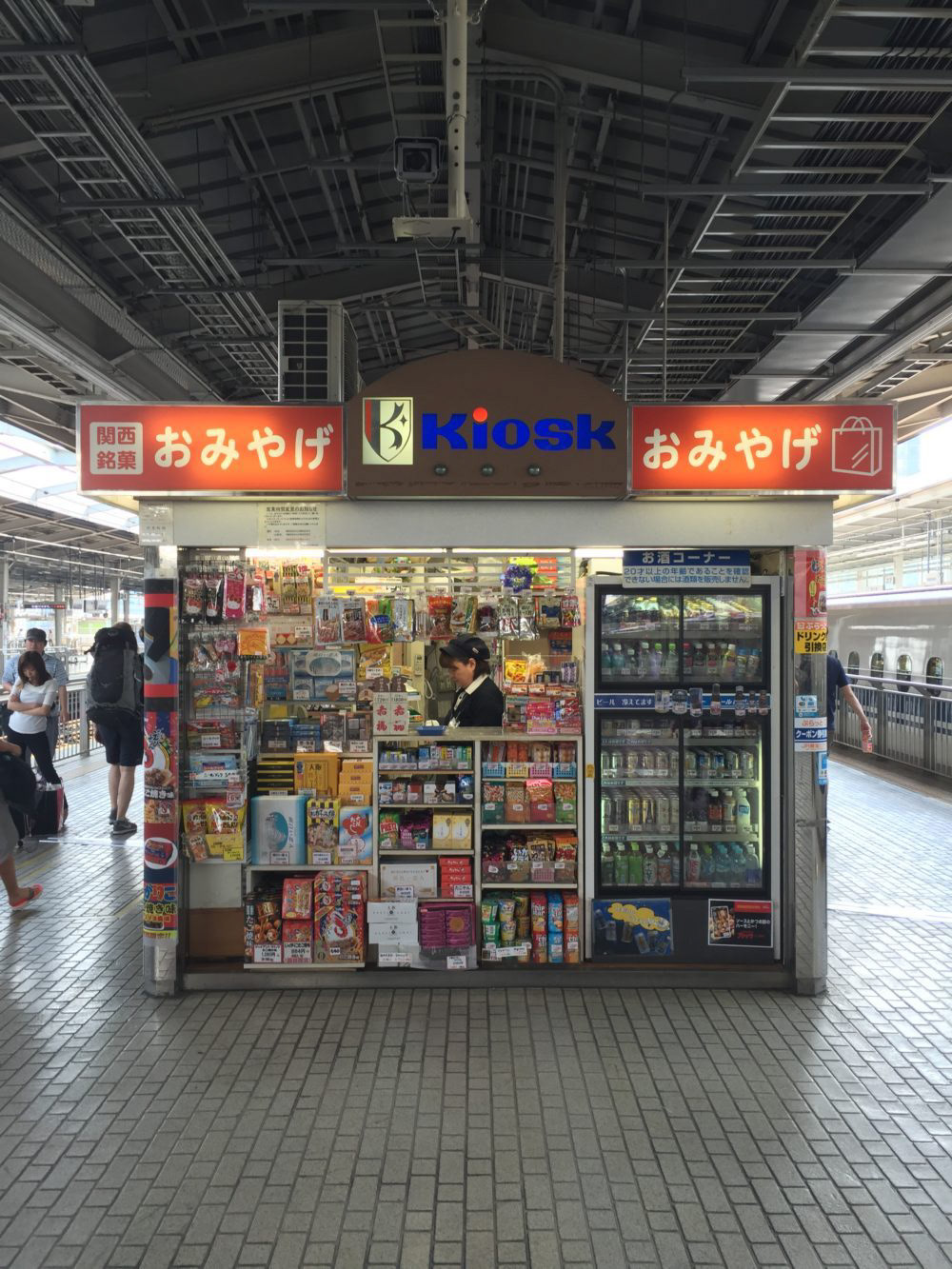 We dropped our bags off at the Ninehours Capsule hotel before an evening stroll around the area.
Below shows the Yasaka Shrine before and after dark.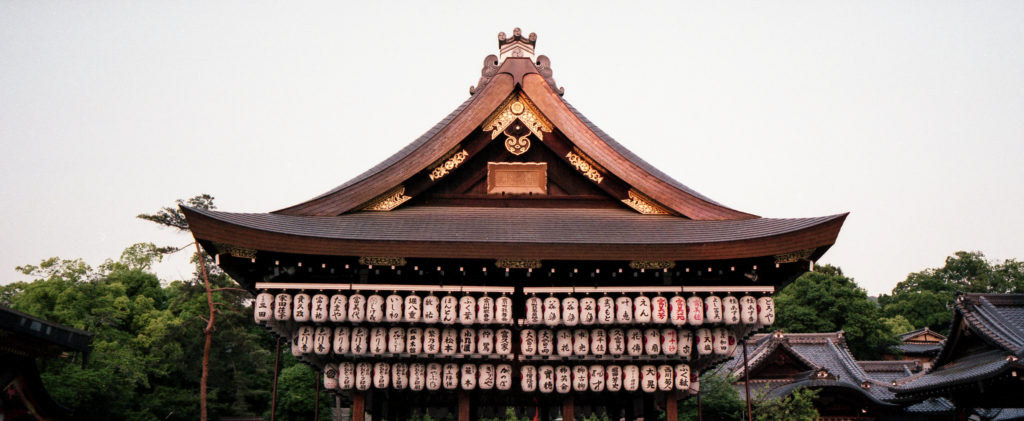 We went to Ponto-Chō for dinner, an area where you'll find winding alleyways of quaint, tucked away restaurants and bars. Some of them have great terraces that line along the river. Highly recommended but tend to be quite busy.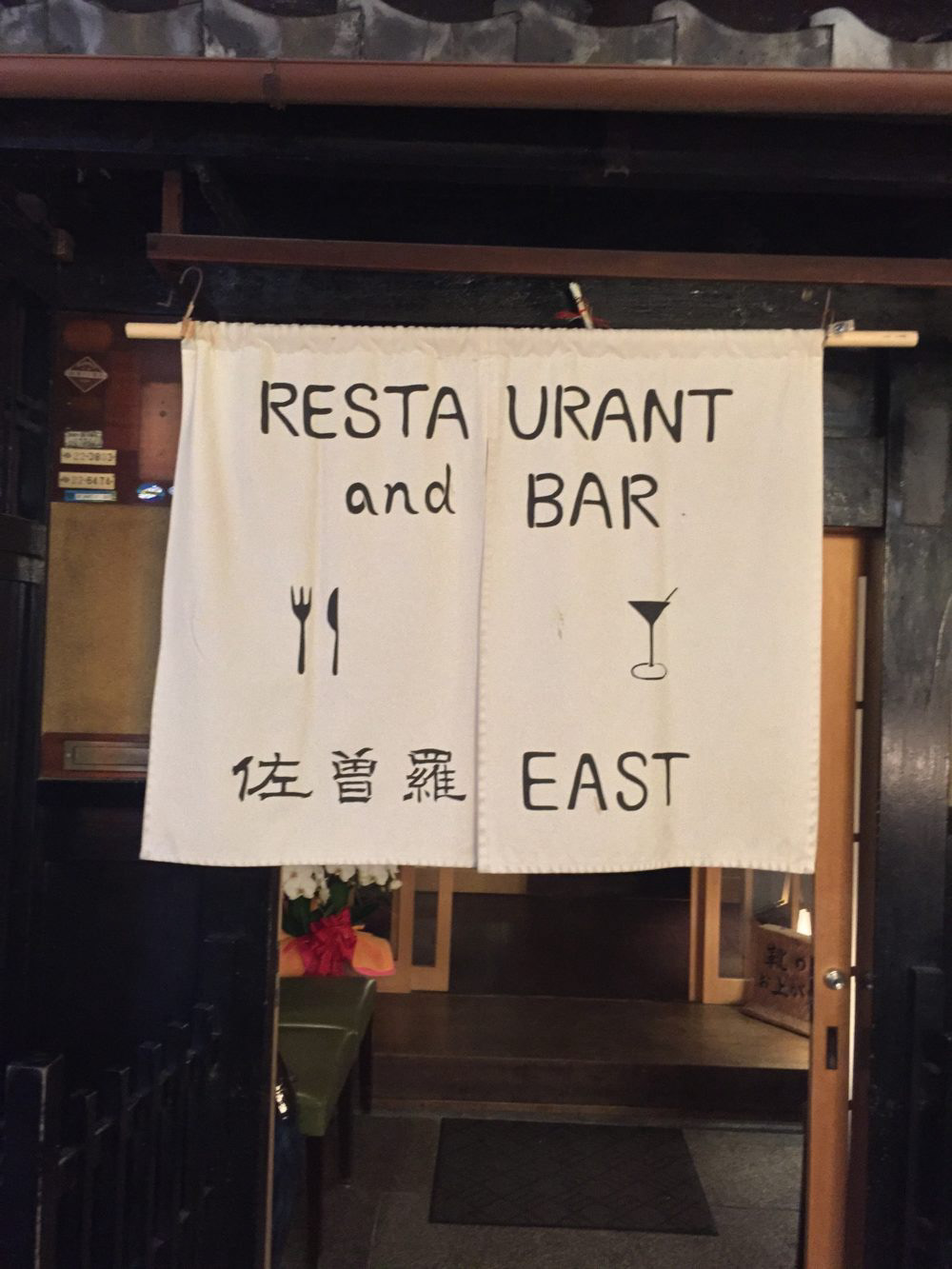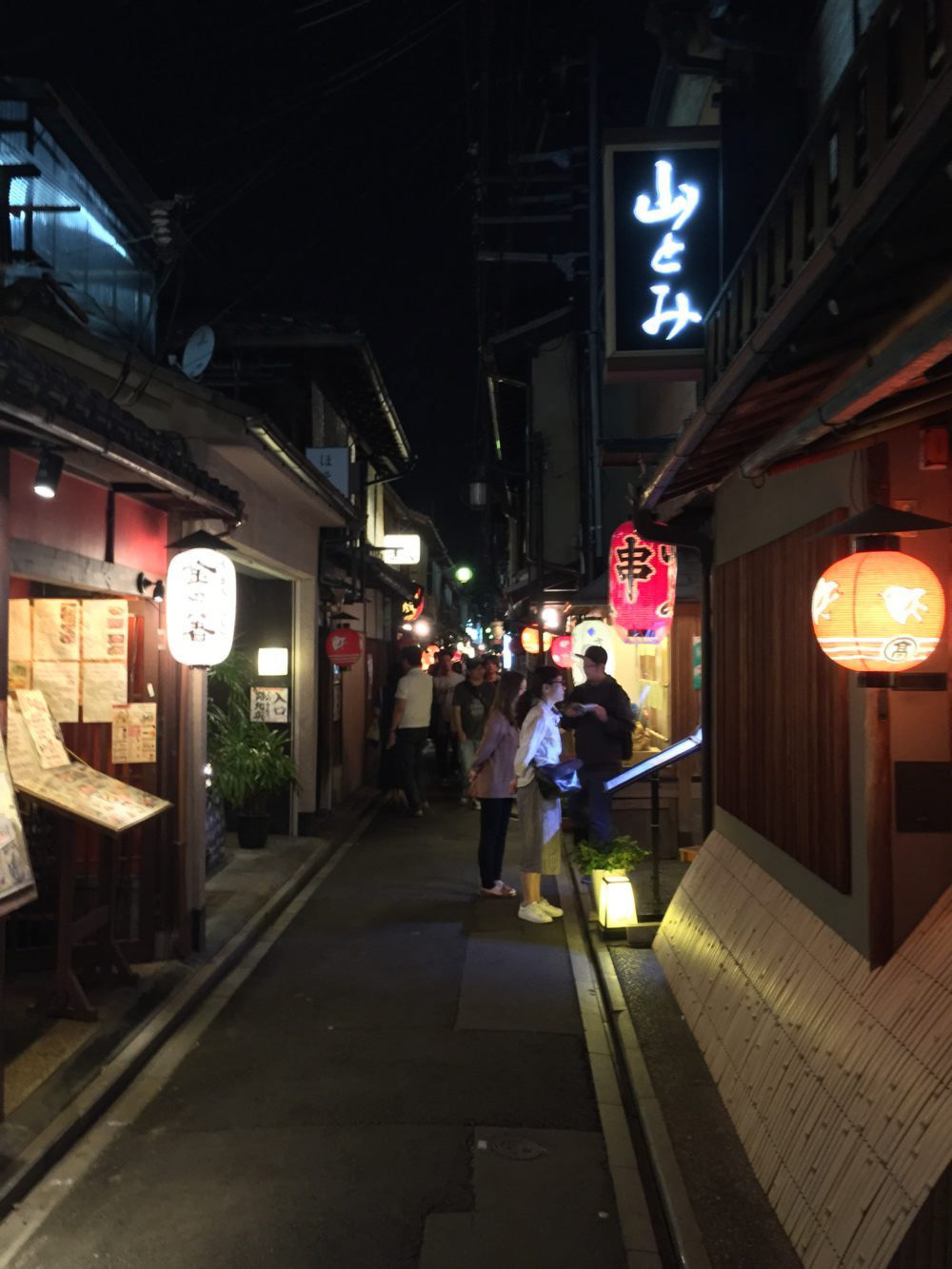 Day9 – Kiyomizu Dera Temple / AirBnb /River / Fushimi Inari
We took a lengthly walk up to Kiyomizu Dera Temple before swapping from the Capsule Hotel to our AirBnb.  This is a great area for people watching.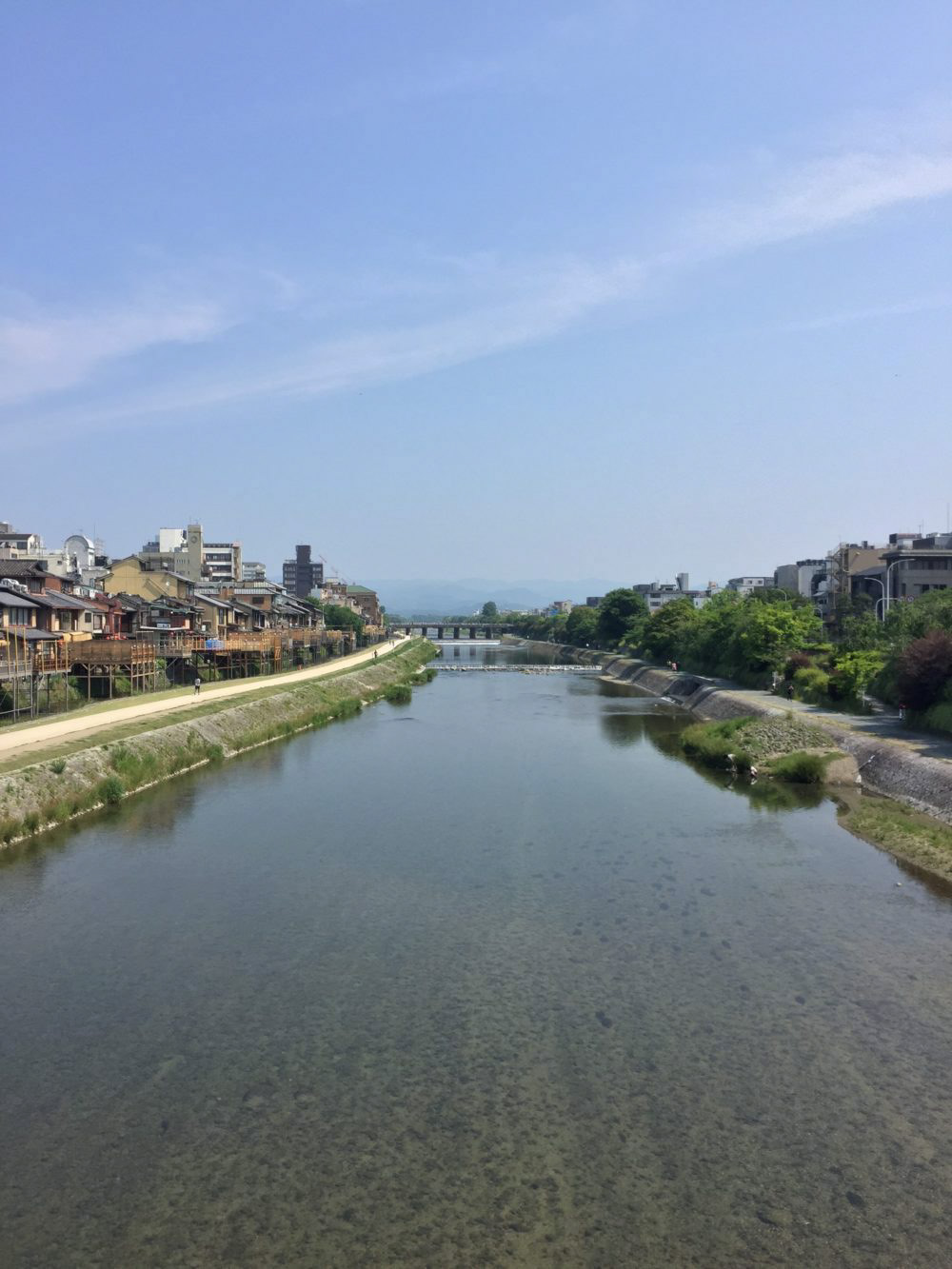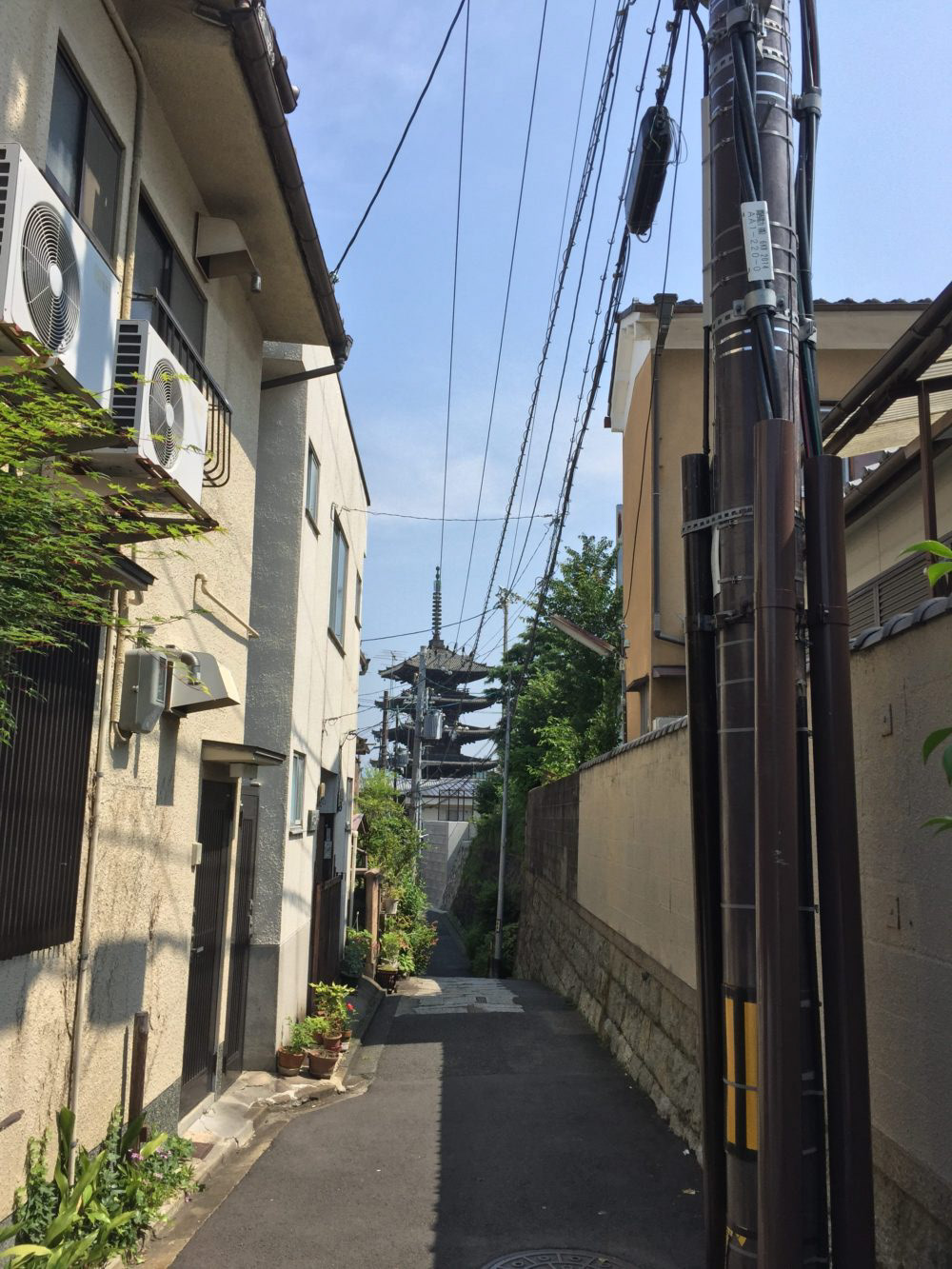 We had lunch and sat by the Kamo River before heading to Fushimi Inari for a late afternoon hike. This is a good time to do it, because if you time it right, you can catch the sunset from the top.



We had lunch and sat by the Kamo River before heading to Fushimi Inari for a late afternoon hike. This is a good time to do it, because if you time it right, you can catch the sunset from the top.
Day10 – Kibune Kurama Hike / Nara / AirBnb Drinks
Whilst in Kyoto, we took advantage of going on a hike in the sticks.  We took a couple of trains north to go on the walk between Kibune and Kurama.  This is a peaceful, quiet but not the easiest of walks depending on which direction you go. Nonetheless, highly recommended.
Afterwards, we headed directly south to Nara, the area famous for it's temples and deer that roam freely around the parks.  You can buy treats for the deer and they will bow politely before you feed them.  This is also where you'll find the famous and breath-taking Tōdai-ji, a huge temple which you can pay a small amount to go into, this is recommended to see the sheer size of the building and the Buddha inside.

Day11 – Sanjusan Gendo / Kyoto Railway Museum / Yamazaki Distillery / Shinkansen back to Tokyo / Memory Lane Yakitori
Typically, more people tend to see more temples and sights in Kyoto, however, I wanted to see the Kyoto Railway Museum which had opened a couple weeks prior to us arriving.  Me and a few others decided to check this out. If you're remotely as nerdy as me, it's worth a visit.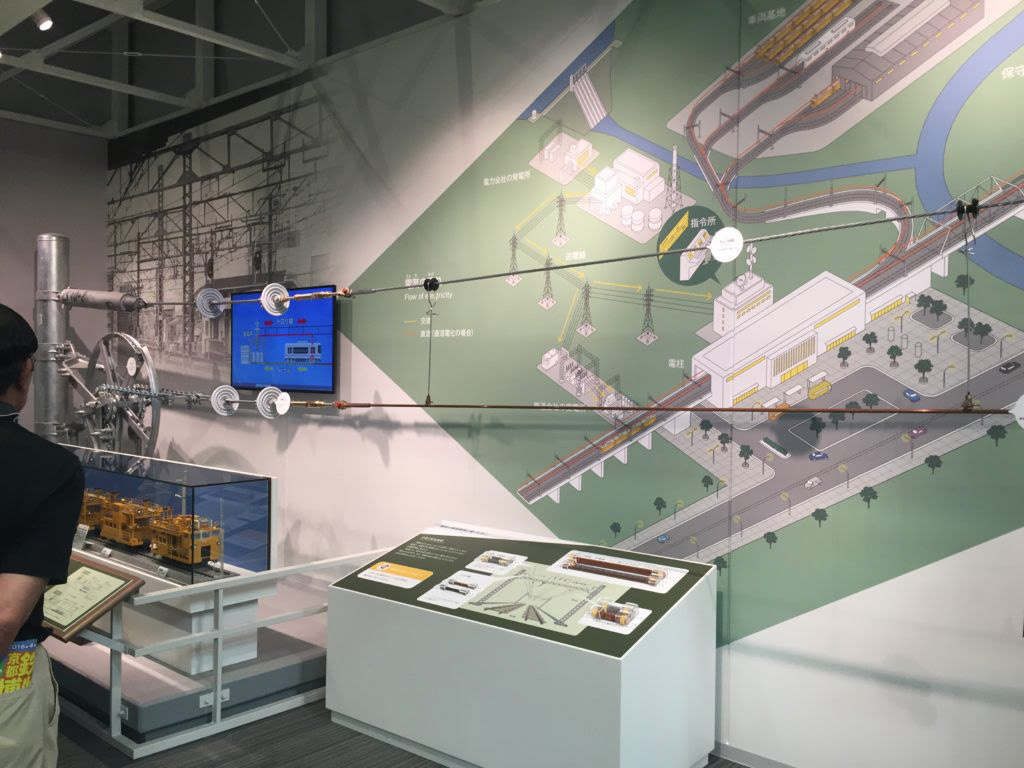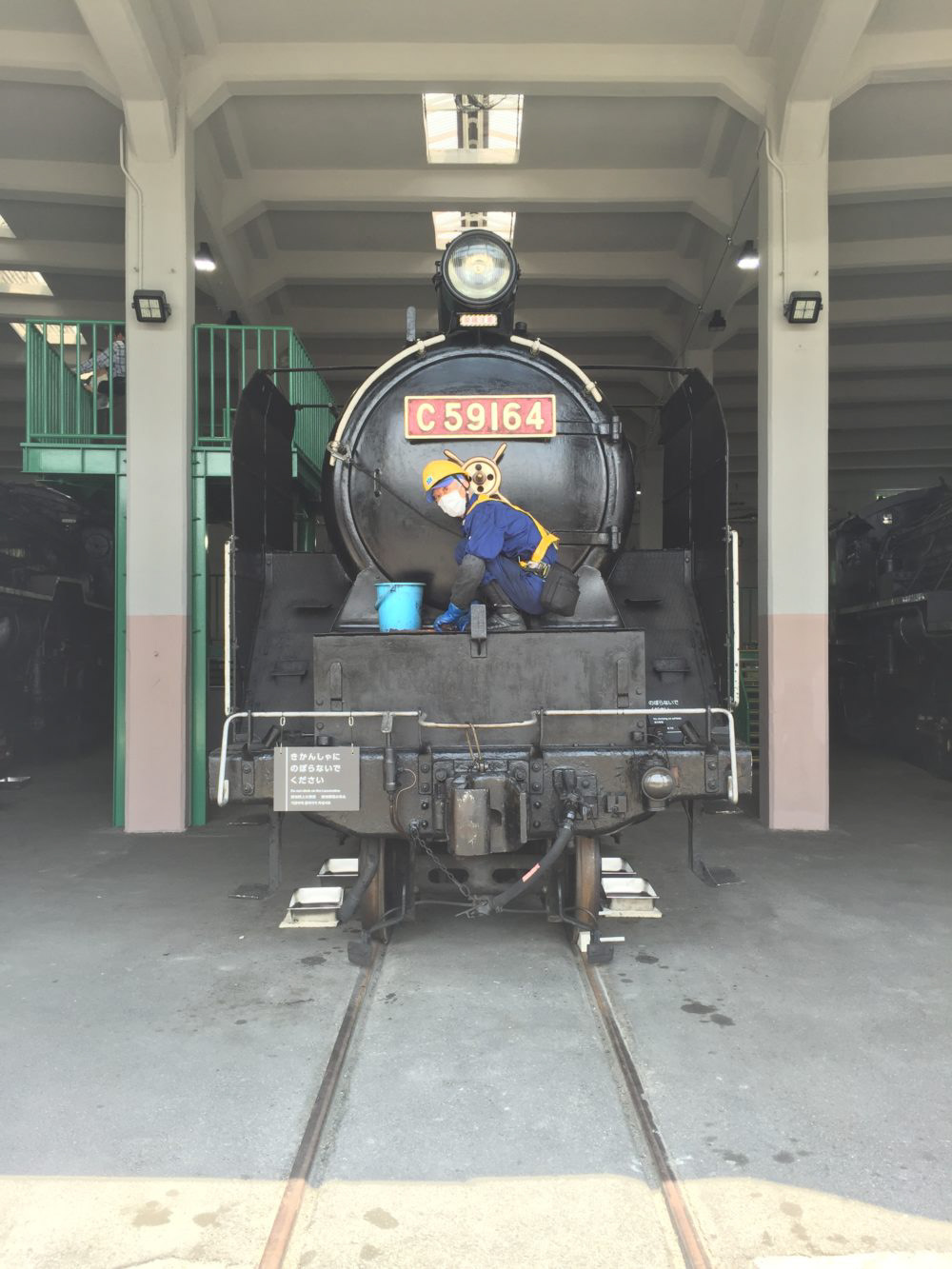 Before catching our Shinkansen back to Tokyo, we took a train a few stops to Yamazaki to go to the Yamazaki Distillery.  Any admirer of whisky knows that this is where you'll find some of the world's best and at a cost of £5, it's certainly worth your money! We had tour that lasted around one and half hours plus a taster class at the end… about 4-5 whiskies.  Again, if you're aware of some of the Suntory whisky range, you'll know that these are expensive and harder to come by these days.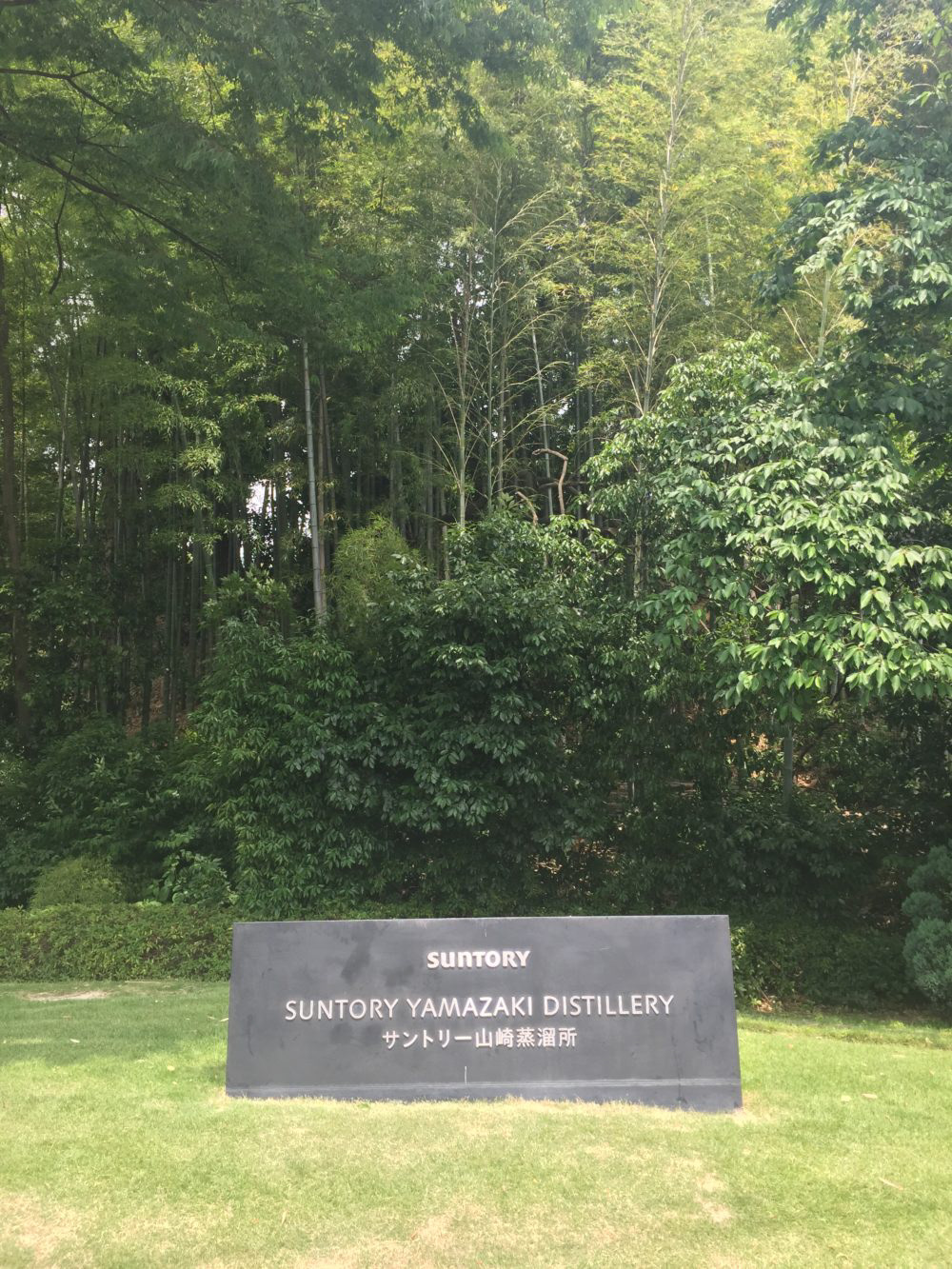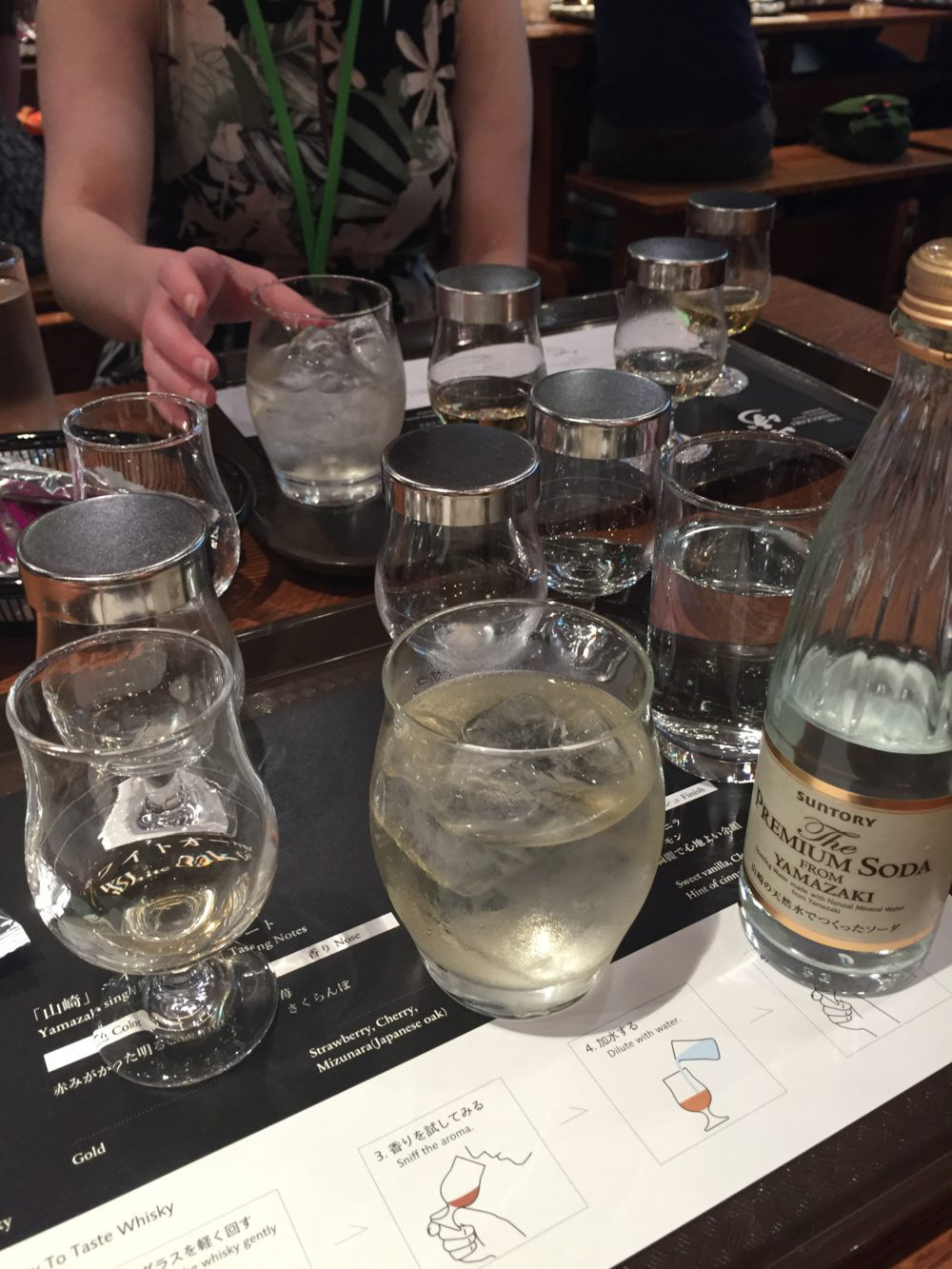 Day12 – Shibuya / Shopping / Frog Bar / Karaoke
Back in Tokyo, we decided to all split and take to the shops around Tokyo.  We went to the Frog Bar (Kagaya) in the evening and had the strangest experience of our lives.  Here's the link and good luck.  Oh and we went to karaoke afterwards, of course.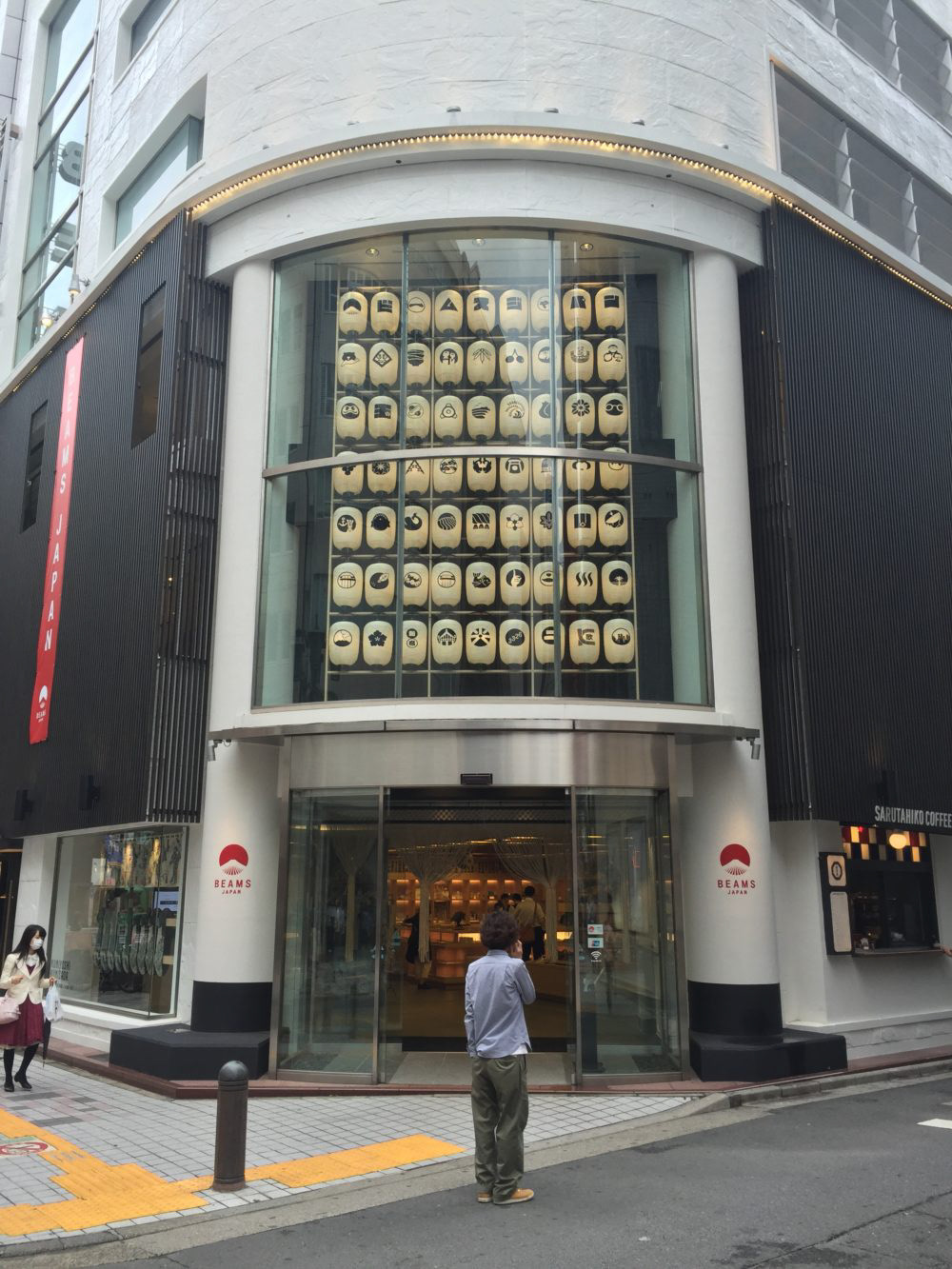 Day13 – Shopping / Yoyogi Park
More shopping, eating and a lot of sitting back and relaxing in Yoyogi Park.  We had street food in Shibuya for lunch.
Day14 – Kappabashi / Baseball / Park Hyatt
In the morning we all travelled to Kappabashi, Tokyo's kitchen district. If you're interested in Japanese kitchenware, whether if it's personally engraved kitchen knives or tea cups, this is the place for you!
In the evening we caught the baseball at Tokyo Dome, where the atmosphere was tremendous! Baseball isn't for everyone but I loved it!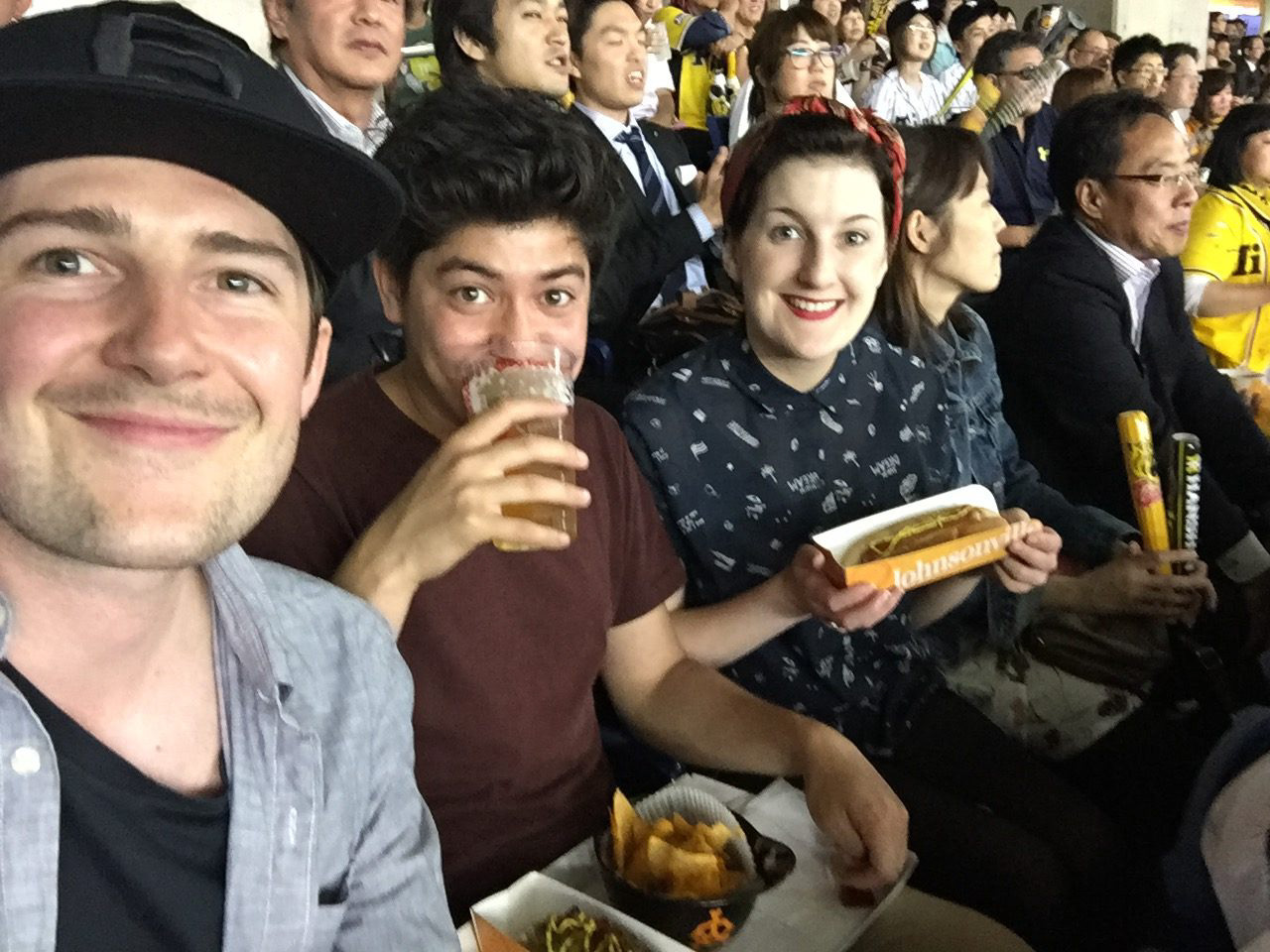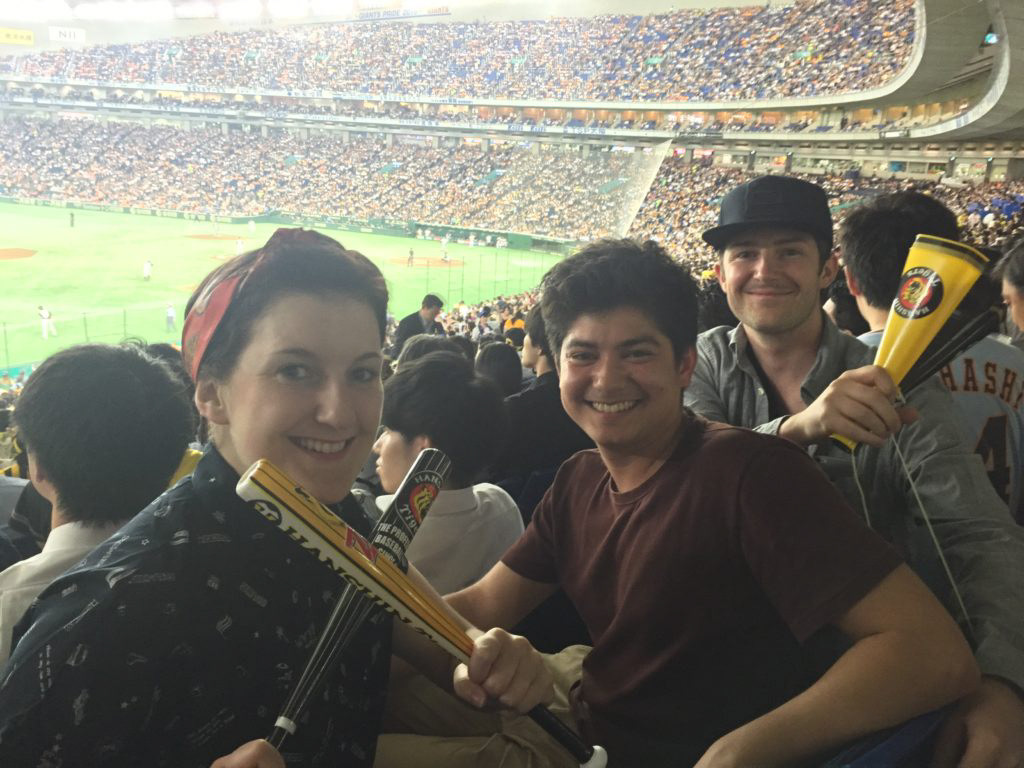 We took a bit of time out for a cliché tourist evening in the New York Bar at the Park Hyatt, where lots of scenes from Lost in Translation were shot. Expensive, but beautiful views and great cocktails.
Day15 – Yasukuni Shrine / Daikanyama / Korean BBQ
We went to the Yasukuni Shrine, a 'controversial' memorial near to the Imperial Palace.  Within the grounds of the museum there  is a beautiful garden with huge koi carp which you can buy food for, it was a very peaceful place to sit back for a bit.  This was followed by a visit to the trendy area of Daikanyama where you'll find great shops, cafes and restaurants. An area famous for concept stores and branded boutiques such as Kitsuné, Supreme, Bonjour Records and APC. We rounded off the evening in Shinjuku for some Yakiniku.  Essentially Korean BBQ, where you have a selection of raw ingredients and your own personal BBQ in the centre of the table.  Beware that you'll smell quite smoky after this.



Day16 – Flight out from Narita
Need I say much more about this day, it's always sad to leave somewhere that you love.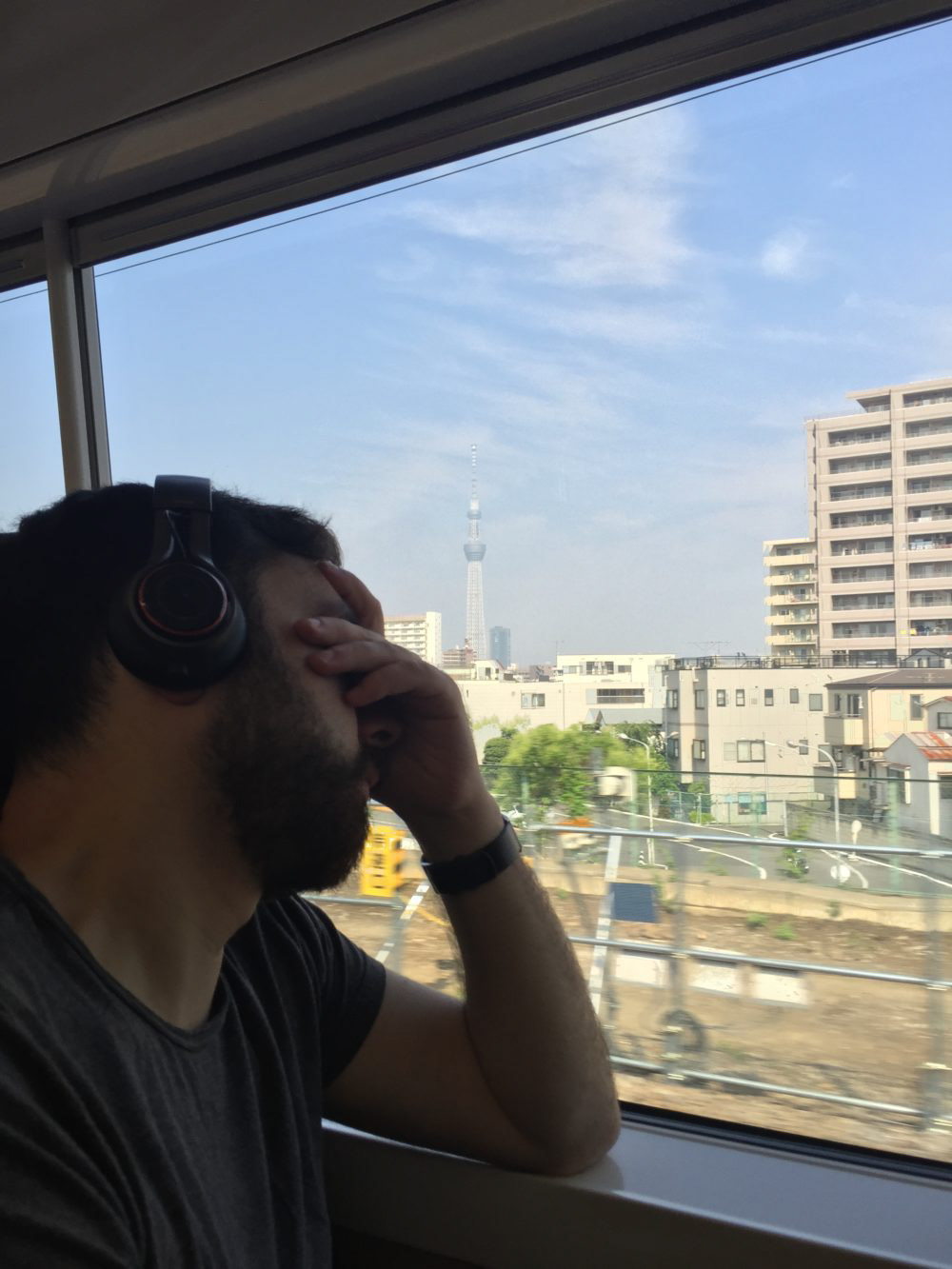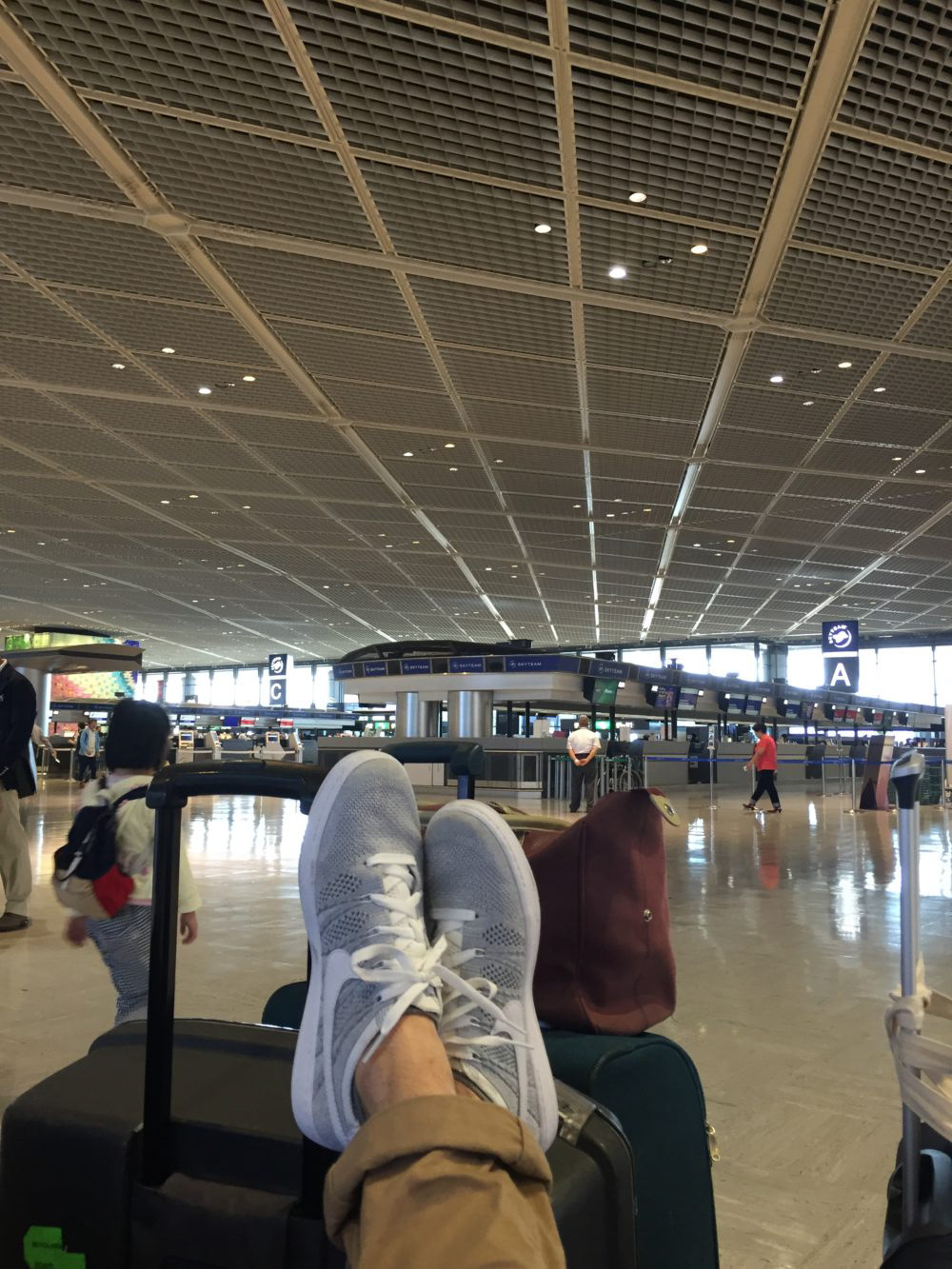 The best you can do for yourself is take some of your favourite snacks that you grew to love from your trip to Japan.